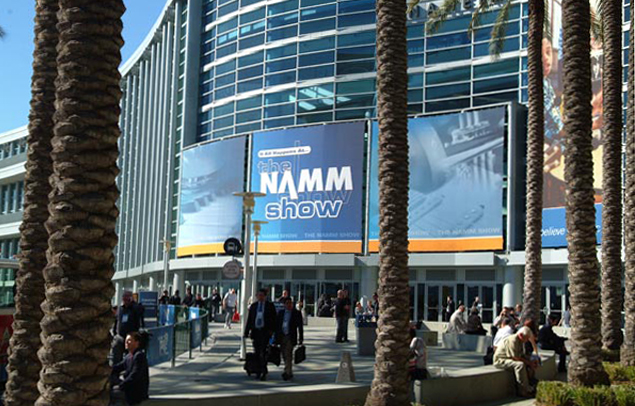 NAMM U Picks Best in Show for NAMM 2012
MikesGig is supported by its audience. When you purchase through links on our site, we may earn an affiliate commission. Read the full disclosure HERE.
The last day of the NAMM show features the NAMM University "Best of NAMM" presentation at the Breakfast Session
And the breakfast was pretty darn good this year – biscuits and gravy, bacon and scrambled eggs, taters, sweet rolls and croissants, fruits, orange juice and strong coffee. The best part of the morning was the stellar playing of the Kruger Brothers. I had no idea that a banjo could do that – Jens Kruger plays it like a Stradivarius. The Brothers (Jens, Uwe and Joel Landsberg) were respected with a standing ovation at the end of their set.

Frank Alkyer, publisher of Music Inc. and a panel of experts that included Gayle Beacock, Vic Salazar, Steve Fortner, Tim Pratt, Jonathan Lipp and Chris Basile, announced the recipients in the following categories:
Best In Show
P-Bone, Conn-Selmer
Atlas Hardware, Ludwig
StageScape M20D Mixer, Line 6
DL-1608 Digital Mixer, Mackie
MyDentity Drums, Mapex
Best Accessory or Add-On
Teach Yourself Pro Audio Series, Alfred Publishing
Todd Sucherman's Method & Mechanics II DVD, Hal Leonard
TS-100 Series, Ultimate Support
Apex Keyboard Stands, Ultimate Support
Pitch Clips, Korg
Cheat Sheets
OnStage Stands iPad Mount, The Music People

Gotta Stock It

THR Amplifiers,Yamaha
Quick Release Hi-Hat Clutch, Gibraltar
XW-P1 and XW-G1 Synthesizers, Casio
Axient Wireless System, Shure
American Stage Instrument Cables, Planet Waves
Companies To Watch
Line 6, Booth
Mapex
Fishman
Charvel Guitars
Behringer
Casio
Also during the breakfast session, NAMM presented its Wanna Play? Award to eight companies from outside of the music products industry, which use music products in their television ads, helping to inspire people to make music.
The recipients of the 2011 Wanna Play? Awards are:
SunTrust Bank for its Rock Stars In the Financial Industry print ad
freecreditscore.com for its Credit Fail TV ad
Cheetos for its Piano TV ad
Chase for its Ultimate Rewards print ad
Target for its Music Teacher TV ad
Heineken for its The Entrance TV ad
Rocksmith for its Rocksmith Launch TV ad
Chevy for its Shine TV ad
Mark Hriciga, vice president of advertising and user experience at Experian Consumer Direct, was at the presentation to accept the award on behalf of freecreditscore.com and its TV ad called "Credit Fail." And singer, songwriter and guitarist Chelsea Williams was also at the presentation to accept the Wanna Play? award on behalf of Chevy for its "Shine" TV ad, in which she appeared.