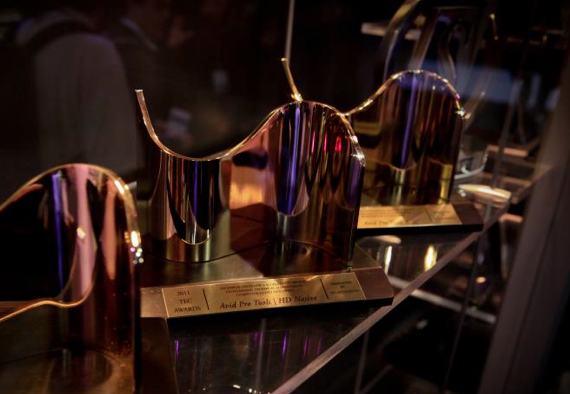 27th Annual TEC Awards Feature Fun and Good Music
MikesGig is supported by its audience. When you purchase through links on our site, we may earn an affiliate commission. Read the full disclosure HERE.
Avid, Shure and SSL Big Winners at 2012 TEC Awards
The annual award ceremony that is a cross between the Academy Awards and a Celebrity Roast kicked off with an introduction by the founder of the TEC Foundation and Mix Magazine,  David Schwartz. The band served up some tasty numbers with the help of guests Jeff "Skunk" Baxter, Steve Vai, Billy Sheehan and Will Lee. Will Lee, who also serve as MC for the event, opened his portion of the show with a clever parody of Candy Man entitled Ear Candy Man. Other presenters included; Phil Collen and Lisa Loeb, Weird Al Yankovic, Michael MacDonald, Bootsy Collins and Eddie Kramer among others. Steve Vai was presented with the Les Paul Award which is given annually to a musician or recording professional whose work has epitomized the marriage of music and technology.
OUTSTANDING TECHNICAL ACHIEVEMENT
Ancillary Equipment
Manley Labs MicMAID mic/preamp auditioner
Microphone Preamplifier Technology
Rupert Neve Designs Portico 517
Studio Monitor Technology
Genelec  1238CF
Recording Devices
JoeCo BlackBox 2.1
Musical Instrument Amplification & Effects Technology
Eventide Space
Amplification Hardware/Studio & Sound Reinforcement
Lab Gruppen PLM 20000Q
Computer Audio Hardware
Avid Pro Tools | HD Native
Musical Instrument Technology/Hardware
Moog Slim Phatty Synthesizer
Musical Instrument Technology/Software
Spectrasonics Omnisphere v1.5
Signal Processing Technology/Hardware
Radial Engineering WR8 Workhorse
Signal Processing Technology/Software
Universal Audio Studer A800 tape recorder plug-in
Sound Reinforcement Loudspeaker Technology
Meyer Sound Labs MINA
Microphone Technology/Sound Reinforcement
Shure Beta 181
Microphone Technology/Recording
Royer Labs R-101
Wireless Technology
Shure PGX Digital Wireless
Workstation Technology
Avid Pro Tools 9
Sound Reinforcement Console Technology
Avid VENUE 2.9
Small Format Console Technology
Solid State Logic Nucleus
Large Format Console Technology
Solid State Logic AWS 948
OUTSTANDING CREATIVE ACHIEVEMENT
Record Production/Single or Track 
"Angel Dance", Robert Plant
Record Production/Album
21, Adele
Tour Sound Production
Roger Waters. "The Wall Live" Tour, Clair
Remote Production/Recording or Broadcast
Robert Plant and the Band of Joy, Live in Concert, NPR Music
Television Sound Production
Saturday Night Live, NBC
Film Sound Production
Inception, Warner Bros. Pictures
Interactive Entertainment Sound Production
Call of Duty: Black Ops , Activision Publishing
Studio Design Project
Jungle City Studios, New York City