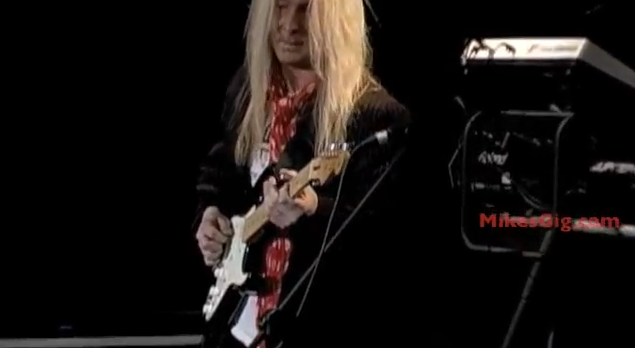 Robert Marcello Demos the GK-Ready Stratocaster® at NAMM 2012
MikesGig is supported by its audience. When you purchase through links on our site, we may earn an affiliate commission. Read the full disclosure HERE.
Roland and Fender Unveil the New Roland/Fender V-Guitar
Since pioneering the GR-500 guitar synth in 1977, Roland has been dedicated to developing the ultimate electronic guitar. A perpetual and continuous quest for the next-generation guitar led to electric-guitar giant Fender®. Now, collaborating with Fender, Roland proudly introduces a new era of electronic guitar: V-Guitar!

GC-1 GK-Ready Stratocaster
The complete functions of the Roland GK-3 are perfectly and beautifully embedded in the authentic Fender Stratocaster, letting you drive the GR-55, VG-99, and other 13-pin compatible gear. As well as its futuristic functionality, it also provides classic Fender Stratocaster sound and feel.
Equipped with GK hex-divided pickup, 13-pin connector, and all controls to drive the GR-55 and VG-99
Controls are compatible with the GK-3
Simple and easy operation based on the Stratocaster design concept
Robert Marcello
Robert Marcello is a masterful guitar artist from Sweden, now living in Dublin, Ohio. His skill and stylistic range have made him a sought-after tour and studio player for such artists as John Corabi (Motley Crue), Bobby Blotzer (RATT), Mike Vescera (Yngwie Malmsteen), Tony Montana (Great White), Fergie Frederiksen (Toto), George Lynch (Dokken), Twisted Sister, Sebastian Bach (Skid Row), Stet Howland (WASP) and many others.
Robert has toured internationally with the band Danger Danger since 2002, including a performance at the famous Sweden Rock Festival in 2004 before an audience of 25,000.
Robert is also a highly-regarded teacher and clinician, and currently travels the country – training guitarists and amazing audiences as a Roland/BOSS artist.