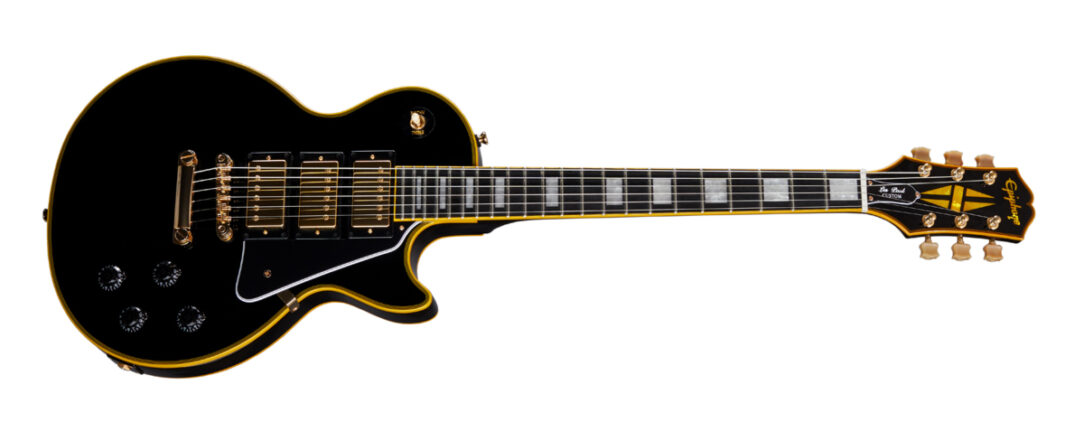 Joe Bonamassa Collaborates With Epiphone to Create a Replica of His Rare "Black Beauty" Les Paul!
MikesGig is supported by its audience. When you purchase through links on our site, we may earn an affiliate commission. Read the full disclosure HERE.
Epiphone a leading innovator in designing affordable professional instruments presents the new Epiphone Joe Bonamassa Les Paul Custom "Black Beauty" available worldwide. As the eighth signature guitar from the pre-eminent blues guitarist of his generation, Joe Bonamassa and Epiphone's Luthiers collaborated for two years at Epiphone headquarters in Nashville, TN to create the guitar which was based off one of his most-prized guitars, a 1958 Gibson Les Paul Custom "Black Beauty." The Epiphone Joe Bonamassa Les Paul Custom "Black Beauty" is officially available worldwide at all Authorized Gibson Dealers now. For more information, visit: www.epiphone.com.
When Bonamassa first visited Hauer Music in Centerville, OH he walked away with a 1958 Gibson™ Les Paul™ Custom in black – otherwise known as the "Black Beauty," one of the rarest electric guitars made and one of the most coveted. This limited-edition creation has a 50's neck profile for an era-correct feel, LP Custom bound body and neck, non-weight relieved Mahogany body, unique vintage tuners, Orange Drop® capacitors, CTS® potentiometers, two Epiphone ProBucker™ 2 and one ProBucker™ 3 pickups, Switchcraft® output jack, and classic black hardshell case with gold hardware and yellow gold plush lining.
Joe Bonamassa and Epiphone are committed to producing affordable instruments for music lovers across the globe. "We based my new Epiphone signature on this 1958 Gibson Les Paul Custom," explains Joe Bonamassa. "I made it a super playable instrument, throaty but clean, and the lead pick up just barks. I fell in love with it, it's a great Black Beauty and you just play this thing into the ground. Epiphone did an excellent job re-creating this guitar and I'm excited to share it with everyone."
Two-time GRAMMY nominee Joe Bonamassa has become renowned as one of the most gifted guitarists of his generation. Joe is set to release anew solo studio album Royal Tea,out October 23 via J&R Adventures.Inspired by his British heroes Jeff Beck, John Mayall & The Bluesbreakers, Eric Clapton, Led Zeppelin and Cream, Royal Tea was written and recorded at the legendary Abbey Road Studios.The ten original tracks were co-written by Bonamassa anda cast of homegrown notables including former Whitesnake guitarist Bernie Marsden, ex-Cream lyricist Pete Brown and national-treasure piano man Jools Holland. Bonamassa's long-standing producer Kevin Shirley and regular touring band flew in for the recording sessions, which included Anton Fig (drums), Michael Rhodes (bass) and Reese Wynans (keys).