Disclosure: I only recommend products I would use myself and all opinions expressed here are our own. This post may contain affiliate links that at no additional cost to you, I may earn a small commission. Read full privacy policy here.
There are more guitar players than bass players. Maybe as high as 8-1. Everybody wants to play the guitar. But when you look at the world of boutique instrument and amp companies – that ratio reverses. And every year at NAMM a new crop of hopefuls enter the market with products ranging from the farsicle to the fantastic. Baer amps are of the latter. I met with Mister Baer at the booth he shared with Carey Nordstrand at the 2010 show in Anaheim of LA.
I don't know Roger's history, but I had a good look and listen at his present product and I like it. His Valkyrie, (from Norse mythology "chooser of the slain"), bass head is stunning and classy in "Ferrari red" with easy to read black graphics and black knobs. The control panel is functional and logically laid out with no gratuitous graphics to muddle things up. I like his choice of center frequencies, a kind of hybrid of modern and classic, and the two bands of para mids. The weight, at 25 lbs., is very reasonable for an amp/pre package with 400 watts at 8ohms. The unique feature of the Valkyrie is the Trans-Hybrid Preamp, "a versatile design that allows you to choose between the punch and precision of an entirely solid state bass amplifier, or the rich overtones and harmonics of a tube hybrid design."
This amp sounded great – of course I had to demo it with the new Nordstrand vP5. Thumpy, responsive, clear and capable with the power available. I especially liked the sound through the Baer ML series cabinets with their custom designed neodymium woofers and extended range neo midrange drivers. They contain no raspy, clakky, biting tweeter used by some designers. The cabs come in two varieties utilizing the same drivers – a single woofer and mid and a dual woofer/dual mid – both 40hz – 8kHz and 97dB or 100dB respectively. I'm looking forward to a thorough shakedown in the near future. These units are built tough and appear ready for the road. Thanks Roger.
AMPLIFIER TOPOLOGY: Class A/B with thermal overload protection
POWER OUTPUT: 900w @2ohms, 700w @4ohms, 400w @8ohms*
INPUTS: Passive 1/4" input jack, Active 1/4" input jack w/ -10dB pad
PREAMP: Solid state, discrete transistor
TUBE SECTION: 1 – 12AX7, 1 – 12AU7 tube amplifier circuit
EQ SECTION:
Deep: +/- 6dB @ 45Hz
Bass: +/- 10dB @ 80Hz
Low Mid: +/- 10dB @ 100Hz to 1kHz
High Mid: +/- 10dB @ 800Hz to 3.5kHz
Treble: +/- 10dB @ 4kHz
Bright: +4dB @ 6.5kHz, shelving
OUTPUTS:
Two Neutrik Speakon connectors. Minimum load 2ohms
DI – XLR w/ level control, pre/post EQ & pre/post tube switches
1/4" tuner out jack.
1/4" Serial effects send and return jacks
1/4" Line Out jack
COOLING: Thermostatically controlled fan speed circuit
MUTE: Operation via front panel switch, or optional footswitch
DIMENSIONS: Standard 2U rack unit, 19"w x 3.5"h x 14"d
WEIGHT: 25lbs.
WARRANTY: 3 year limited
* preliminary specifications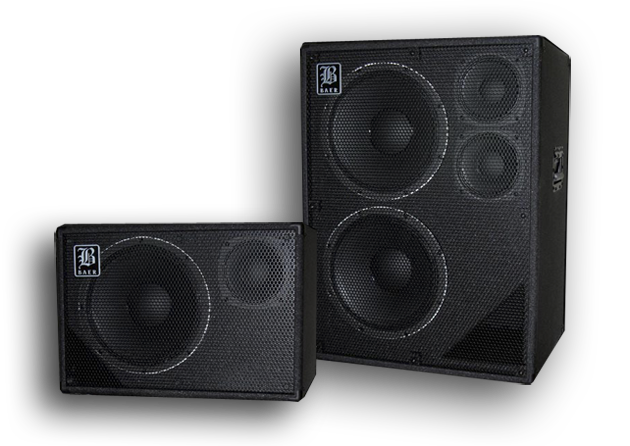 ML Series cabinets feature poplar plywood cabinets for lighter weight with Baltic birch speaker baffles for extra rigidity where it's needed most. All cabinets come standard with our 100% poly urea coating. Not to be confused with cheaper water based coatings, our coatings are simply the toughest speaker covering available today.
Other features include:
Neutrik combination input jacks featuring both speakON and 1/4" inputs
Heavy duty steel spring handles and corner hardware
Acoustical foam internal dampening material
Powder coated steel grills
ML112 Specifications:
Drivers 1- custom 12″ neo woofer, 1 – 6.5″ mid range driver
Power Rating 400 watts
Impedance 8 ohms
Frequency Response 40hz – 8kHz
Sensitivity 97 dB
Dimensions 22.5″w x 15.5″h x 16.75″d
Weight 41 lbs.
ML212 Specifications:
Drivers 2 – custom 12″ neo woofers, 2 – 6.5″ mid range drivers
Power Rating 800 watts
Impedance 4 ohms
Frequency Response 40hz – 8kHz
Sensitivity 100 dB
Dimensions 22.5″w x 30″h x 16.75″d
Weight 69 lbs.