The Digital Mellotron is Exactly Like the Vintage Mellotron M400 – Only Better!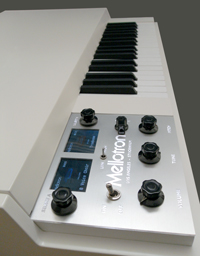 Same styling, same keyboard – the M4000 Digital Mellotron is a 24-bit digital, uncompressed audio playback unit with 100 Mellotron and Chamberlin sounds. All 100 sounds are immediately accessible. Markus Resch at Mellotron, the company that owns the Mellotron name and revived the brand in 1999, is still making the Mellotron Mark VI (classic magnetic tape Mellotron based on the M400). He has incorporated the strange "in-between settings" with his digital version in order to capture some of the traits of the tape version. Markus didn't go with cheap plastic keys, the M4000D has wooden keys with mechanical, instead of hammer, action; and the playability is perfect. The keys have great weight and a sense of depth to them without being clunky or slowing you down in the least bit. A beauty but no longer a beast – the M400 weighed in at 122 lbs. – the M4000D replicates the soft white look and feel of the original.
In a side by side – or top by bottom as it were – comparison of the digital to tape versions, the sound is amazingly true to the original. But only better. Quieter, cleaner and much more stable with none of the problems inherent to a tape playback system. Yet the M4000D retains the expressiveness of the 400 that players like so much. The M4000D has a position sensitive keyboard, which means each key is in principle a volume control. This is to emulate the effect of the Mellotron and espesially the M-series and Chamberlin where you could control the volume of the notes, depending on how hard you pressed the tape on the tape head. You also can play the sounds in low pitch, which means an octave deeper.
The original Mellotron was prominently used by Genesis, King Crimson, The Beatles and Magik Dayze. The digital Mellotron is now on tour with the Foo Fighters, Red Hot Chili Peppers, Smashing Pumpkins and Opeth!
Features
100 instantly accessible authentic Mellotron & Chamberlin sounds
Beautiful 24-bit digital, uncompressed audio
Custom built wooden keyboard with ebony key tops
Dimensions: 34″ width x 19 3/4″ depth x 5 1/4″ height (86cm x 50cm x 13.4cm)
Weight: 38 pounds
Price: $2595

Back Panel
Midi – IN, OUT, THRU
Special Format Expansion Card
There will be an Expansion Card with 200 additional Tape Banks
AUDIO OUTPUTS
XLR Master, Direct A, Direct B
Jack Master, Direct A, Direct B, Phones (Stereo Output)
JACKS
Sustain, Volume Pedal, Expression 1, Expression 2