I met Joe Luttwak of Blackbird Guitars at his first winter NAMM in 2009.
That was the year of carbon fiber. Seams like everybody and his brother was introducing a carbon fiber guitar that year – Rainsong, Composite Acoustics, XOX and Blackbird, among others. Now Blackbird has gone "organic" with the introduction of a guitar made from Ekoa – a proprietary composite based on flax fibers.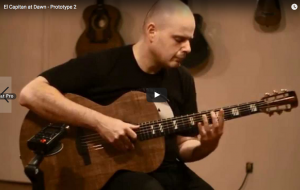 After a few years of prototyping Blackbird Guitars is excited to announce that their first guitar made of Ekoa, El Capitan, is finally available through dealers and the Blackbird custom shop. El Capitan is a world class instrument and the first made with Ekoa linen. To mark the occasion Balckbird has produced two launch videos for your enjoyment.