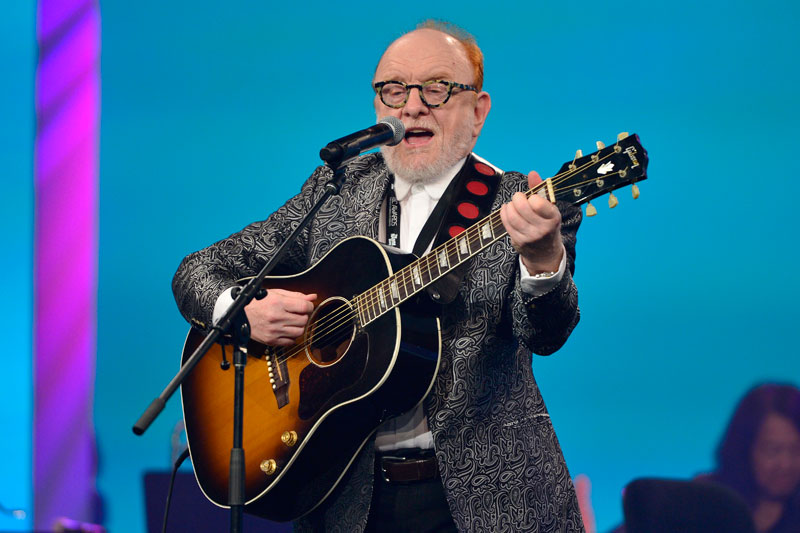 WINNERS ANNOUNCED AT THE 37TH ANNUAL TECHNICAL EXCELLENCE & CREATIVITY (TEC) AWARDS
MikesGig is supported by its audience. When you purchase through links on our site, we may earn an affiliate commission. Read the full disclosure HERE.
Peter Asher, of 60's duo Peter and Gordon, inducted to the NAMM TEC Hall of Fame. Carol Kaye, iconic studio bassist, recognized with the Les Paul innovation award.
ANAHEIM, CA – June 4, 2022 – Winners in 21 technical and seven creative excellence categories were announced at the 37th Annual NAMM TEC AWARDS this evening from the global NAMM Show in Anaheim, CA. Presented annually by NAMM, the event recognizes the exemplary achievements and innovations behind the sound of recordings, live performances, films, television, video games and multi-media. Comedian, actor and musician Fred Armisen returned as host for the evening event. 

For only the second time in TEC history, three companies won two awards each in Outstanding Technical Achievement. They were Genelec (Loudspeaker Manager – GLM V4.0 in Production Essentials and FM Design in Studio Design Project); PreSonus (Sphere in Audio Education Technology and ATOM SQ in DJ Production Technology); and Universal Audio (UAFX Golden Reverberator in Musical Instrument Amplification and Effects and LUNA Recording System v1.1.8 in Workstation Technology). 

The Outstanding Creative Achievement category winners for 2021 projects reflected a year filled with a slew of top-ranking entertainment. Disney+ took home top honors in Film Sound Production and Television Sound production for its animated movie, "Soul" and the second season of "The Mandalorian," respectively. In the category of Record Production – Single or Track, "Lost Cause" from Billie Eilish (Darkroom/Interscope) took the top spot, while "McCartney III" (Capitol) won for Record Production – Album. In Interactive Entertainment Sound Production, Ubisoft was honored for its work on Assassin's Creed Valhalla. 

The evening recognized the timeless work and artistic innovation of Peter Asher, who was inducted and presented with the TEC Hall of Fame award. Throughout his decades-long career in the music industry, Asher has earned the reputation of being one of the industry's most sought-after producers and performers. His career began in the '60s as the other half of the pop group Peter & Gordon. After the group disbanded, Asher was named Director of A&R at the Beatles' Apple Records label, where he signed a then-unknown James Taylor. Asher would go on to work with the likes of Cher, Bonnie Raitt, Linda Ronstadt, Ringo Starr, and many others, earning him three GRAMMY® Awards for his talents. 

Upon receipt of the award, Asher shared, "The 21st of January, 1964 was a Tuesday, and the first time I ever went into a real recording studio. I went into EMI studios on Abbey Road… By the end of that day, a few important things had happened. I decided I wanted to be a record producer because I saw what a producer could do, in terms of shaping the sounds…So I have to thank for this award, not only the TEC Committee, but NAMM as a whole. And all the brilliant people who attend NAMM, and what they give us – all the great technology, the amazing instruments, the incredible inventions which sonically flourish in the hands of brilliant engineers." 

After accepting the award, Asher performed "A World Without Love," a song from Asher's days in the duo, Peter and Gordon.  

With the TEC Hall of Fame Award, Asher joins the likes of Dave Pensado and Herb Trawick (2020), Leslie Ann Jones (2019), The Section (2018), Jack Douglas (2017), and many others who have received the award since its founding in 1991.

Pioneer and bassist extraordinaire Carol Kaye was honored with this year's Les Paul Innovation Award, one of the night's most anticipated honors from The Les Paul Foundation. The Foundation's Executive Director  Michael Braunstein introduced the award and noted Kaye's impact on the musical landscape, "Carol, like Les [Paul], built a legacy that will continue to encourage all people to create incredible sounds." 
Several artists took to the stage in tribute to Kaye in a musical celebration worthy of her long and revered career. The Les Paul Innovation Award has been presented annually to remarkably-distinguished individuals from the music industry, such as Jackson Browne, Joe Perry (Aerosmith), Paul McCartney, Neil Young, Peter Frampton and 2020's recipient, Joni Mitchell.  

A notable moment in the evening came from Sequential, the winner of the category of Musical Instrument Hardware for its Prophet 5. At the acceptance speech, David Gibbons of Sequential/Oberheim shared, "Life is a series of wins and losses. And the world of MI spent a huge loss this week. Dave Smith, founder of Sequential, creator of the Prophet 5, passed away unexpectedly on Tuesday. He was more than just the founder, he was an innovator, a mentor, and friend. His passing broke our hearts. And in so many ways, his life's work broke the mold for synthesizer design. The Prophet 5 is a recreation of a 40-year synth design. And many people say the appeal comes from how alive it sounds. Did you ever think that perhaps, inventors breed some of their own lifeforce into their best designs? If that's the case, then Dave's spirit lives on in his remarkable body of work." 

The NAMM TEC Awards is held during the global crossroads of the music, pro audio and entertainment technology industries, The NAMM Show. NAMM TEC Awards supporters include the Les Paul Foundation; C.F. Martin & Co.; Harman; Eventide; International Music Software Trade Association; L-acoustics; Leapwing; OWC; The Recording Academy; Shure; and Synchrony Financial, with additional support from 100 GROUP; AVID; Broadjam; The Blackbird Academy; CAS – Cineman Audio Society; Game Audio Network Guild (GANG); ixi Mega; Korg; LATAM STAGE; Millennia: MPSE; Musica y Mercado; sE Electronics International, Inc.; Sonic Scoop; Studioexpresso; TASCAM; Wholegrain Digital; Wonder Wonder Sound; WSDG and many others.

Congratulations to the 37th Annual TEC Award recipients: 
Audio Apps & Hardware/Peripherals for Smartphones & Tablets
Shure – Wireless Workbench 6.14.1

Audio Education Technology
PreSonus Audio – Electronics Sphere

Computer Audio Hardware
Rupert Neve Designs – MBC: Dual Path A-D Converter & Limiter

DJ Production Technology (Hardware/Software)
PreSonus Audio Electronics – ATOM SQ

Headphone/Earpiece Technology
Austrian Audio – Hi-X65 Professional Open-Back Over-Ear Headphones

Large Format Console Technology
Neve – 8424

Microphone Preamplifiers
Audient – iD4 MKII

Microphones – Recording
TELEFUNKEN Elektroakustik – TF11 FET

Microphones – Sound Reinforcement
sE Electronics – V7 VE

Musical Instrument Amplification & Effects
Universal Audio – UAFX Golden Reverberator

Musical Instrument Hardware
Sequential – Prophet-5

Musical Instrument Software
EastWest Sounds – Hollywood Orchestra Opus Edition

Production Essentials
Genelec – Loudspeaker Manager – GLM V4.0

Signal Processing Hardware
Rupert Neve Designs – 5254 Dual Diode Bridge Compressor

Signal Processing Software (Dynamics/EQ/Utilities)
iZotope – RX 8

Signal Processing Software (Effects)
FabFilter – Timeless 3

Small Format Console Technology
Solid State Logic – UF8 Advanced DAW Controller

Sound Reinforcement Loudspeakers
Meyer Sound – ULTRA-X20 Compact Wide Coverage Loudspeaker
Studio Monitors
EVE Audio – SC4070

Wireless Technology
Sennheiser – Evolution Wireless Digital

Workstation Technology/Recording Devices
Universal Audio – LUNA Recording System v1.1.8

Film/Sound Production 
Soul, Disney+

Interactive Entertainment Sound Production
Assassin's Creed Valhalla, Ubisoft

Remote Production – Recording or Broadcast
The Late Show With Stephen Colbert,  CBS

Record Production – Album
McCartney III, Paul McCartney, Capitol

Record Production – Single or Track
Lost Cause, Billie Eilish, Darkroom/Interscope

Television Sound Production
The Mandalorian, Season 2 – Disney+ 

Studio Design Project
Genelec Immersive Experience Center, Natick, MA FM Design

ABOUT THE TEC AWARDS 
Presented annually by the NAMM Foundation during The NAMM Show, The NAMM TEC Awards recognizes the individuals, companies and technical innovations behind the sound of recordings, live performances, films, television, video games, and other media in 23 Technical and 8 Creative Achievement Categories. The Les Paul Award is given at the event in tribute to musical artists and others whose work has exemplified the creative application of audio technology. Through its Hall of Fame, The TEC Awards also honors the pioneers of audio technology and the music industry's most accomplished producers and audio technicians. The NAMM Foundation's TECnology Hall of Fame celebrates innovations and groundbreaking technical achievements of the past. For more information, visit www.tecawards.org