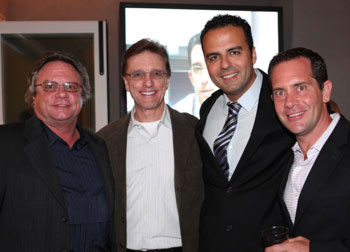 WEST L.A. MUSIC SUPPORTS CHILDREN'S MUSIC FUND
MikesGig is supported by its audience. When you purchase through links on our site, we may earn an affiliate commission. Read the full disclosure HERE.
Listening to music can put you in a good mood and research proves it can literally improve a person's overall health.
West L.A. Music was recognized for its contribution at Children's Music Fund's recent third annual "Healing Through Music" benefit, which was a sold out success. The gala was held at the gorgeous home of musical talents Edie & Michael Lehmann Boddicker, where guests were greeted with gourmet food sponsored by La Dolce Vita restaurant in Beverly Hills and fine wine from Vampire Vineyards. Funds were raised to provide musical instruments and music therapy to chronically ill children, to help them heal through music.
West L.A. Music, a major music instrument retailer in Los Angeles, donated guitars and keyboards to match each pledge of $500 or more. West L.A. Music's own Rick Waite co-emceed the event with comedian Patrick Ney and actress Jenna Macari. Among the attendees were experts on pediatric pain management, and cancer survivors who were recipients of instrument donation and music therapy.
Children's Music Fund is a non-profit organization started by Dr. Raffi Tachdjian, a UCLA immunologist and pediatric pain specialist. Children's Music Fund has assisted hundreds of children in need.
For more information about the Children's Music Fund, please visit http://thecmf.org/news-and-events