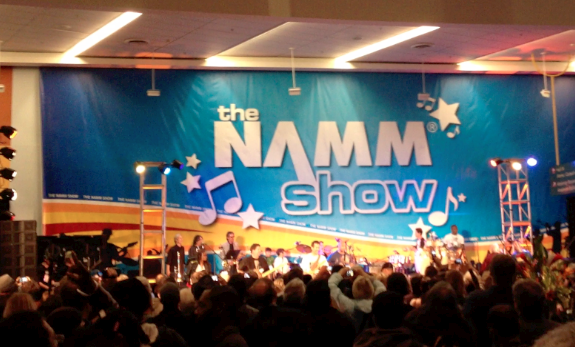 NAMM Concerts
The Band From TV Supporting Charities Worldwide
MikesGig is supported by its audience. When you purchase through links on our site, we may earn an affiliate commission. Read the full disclosure HERE.
Live Concerts at the NAMM Show. The Band From TV.
Amazing Actors/Musicians/Singers performed at the Winter NAMM 2012 Live Concert, Anaheim California.
Big Talent and Big Hearts.
The Band From TV is dedicated to supporting charities worldwide.
It's been a very long fun week at the NAMM show, with 4 big bags of media info, walking/standing/talking all day for 4 days. I just wanted to go home, but the band sounded really good, I was amazed to see Actors on the stage, singing, playing instruments, and sounding really great. So I decided to  use the very last energy from my i-phone. I hope you enjoyed it as much as I did.
It was amazing to hear and watch this group of talented people. I couldn't believe my ears, then . . . when I saw who was singing, I couldn't believe my eyes Bob Guiney is also a member of this group.
About the band: The Band from TV's goal is to provide funding and resources for several incredibly worth while charities around the world. The list of organizations they support may change but they have one common goal; to raise money through music to help those in need. Finding a cure, helping children around the world, protecting our environment, providing educational materials or musical instruments, aiding in natural disasters, or standing up against domestic violence.
What started out as a love for music and simply having fun jamming with buddies has led Greg Grunberg and his friends to an unusual place: packed venues playing rock and roll for charitable causes! The Band From TV lineup includes a powerhouse of well-known and acclaimed actors including: Greg Grunberg (drums), a veteran of shows such as "Alias" and "Felicity" as well as the NBC hit "Heroes"; James Denton (guitar), currently starring in the ABC hit "Desperate Housewives"; Bob Guiney (vocals), who appeared on "The Bachelor" and on TLC's "Date My House"; Jesse Spencer (violin) currently starring in the FOX hit "House"; Adrian Pasdar, from "Heroes" and "Desperate Housewives"; Scott Grimes from "American Dad" and "ER," and rounding out the band are accomplished musicians Chris Kelley (Music Director), Barry Sarna (Eagles), David Leach (Ben Harper), Chris Mostert (Eagles) and child-star turned bass player Brad Savage.
The band charitable involvement:
The Guitar Center Music Foundation
Hugh Laurie performs for Save the Children
Scott Grimes plays for Lupus LA
Adrian Pasdar plays for the Taia Peace Foundation
Jesse Spencer performs for the The Indiana University-Kenya Partnership
James Denton performs for The Conservation Fund
Bob Guiney performs for The Art of Elysium and Childrens Hospital LA
Playing at one of the largest music products trade shows in the world hosted by the National Association of Music Merchants (NAMM), the concert was opened to every NAMM show attendees in front of the Anaheim Convention Center, a crowd of 90,000.
Go to their site and learn more about Actors/Musicians/Singers. www.bandfromtv.com.