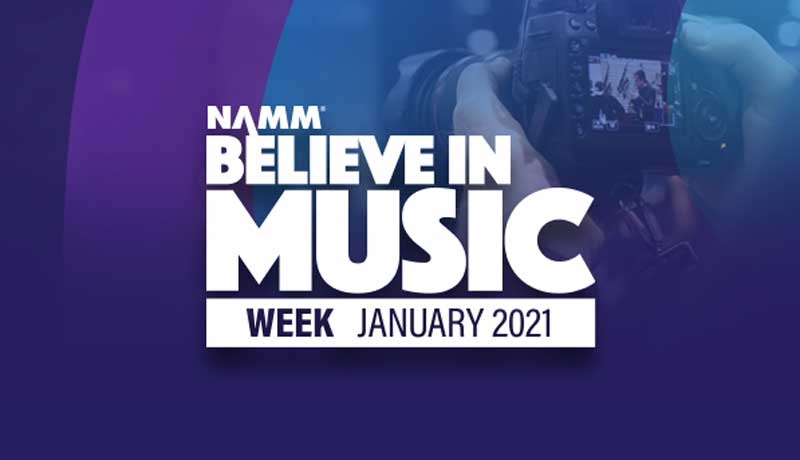 NAMM Show 2021 Goes Virtual…Sort Of
MikesGig is supported by its audience. When you purchase through links on our site, we may earn an affiliate commission. Read the full disclosure HERE.
NAMM launches Believe in Music Week January 18, 2021
Believe in Music Week is the global gathering to unify and support the people who bring music to the world.
A sad outcome of the COVID pandemic is the cancellation of so much live music, closure of music stores, cancellation of in person music lessons and the cancellation of the 2021 NAMM show, held almost every year since 1901. In response, NAMM has created the online-only Believe in Music Week.
The online celebration, to be held over the week of January 18, 2021, will feature a mix of comprehensive programming and professional education at BelieveinMusic.tv, as well as an interactive marketplace to connect buyers and sellers – all designed to elevate the innovation and inspiration found across the industry while offering support for those most deeply affected by COVID. The event will also offer live music, content and product discovery for all who believe in music, helping connect music makers and enthusiasts across the world.
While not The NAMM Show or a virtual tradeshow, the initiative will meet the immediate business needs of NAMM member companies through thought-leader led education for all segments of the industry, networking and AI matchmaking, and business-to-business-focused opportunities to reaffirm and grow business connections, launch new products, share brand initiatives and engage with customers in real-time.
"While it remains unsafe for us to gather in person in January, Believe in Music Week will use new, intuitive technology to connect us all to harness the incredible energy that happens when we come together. With a robust marketplace to launch new products and share brand stories, Believe in Music Week will also feature networking and matchmaking for our buyers and our sellers, education for all segments of the industry, and live music and concerts to engage music makers across the world."
Joe Lamond, NAMM President and CEO