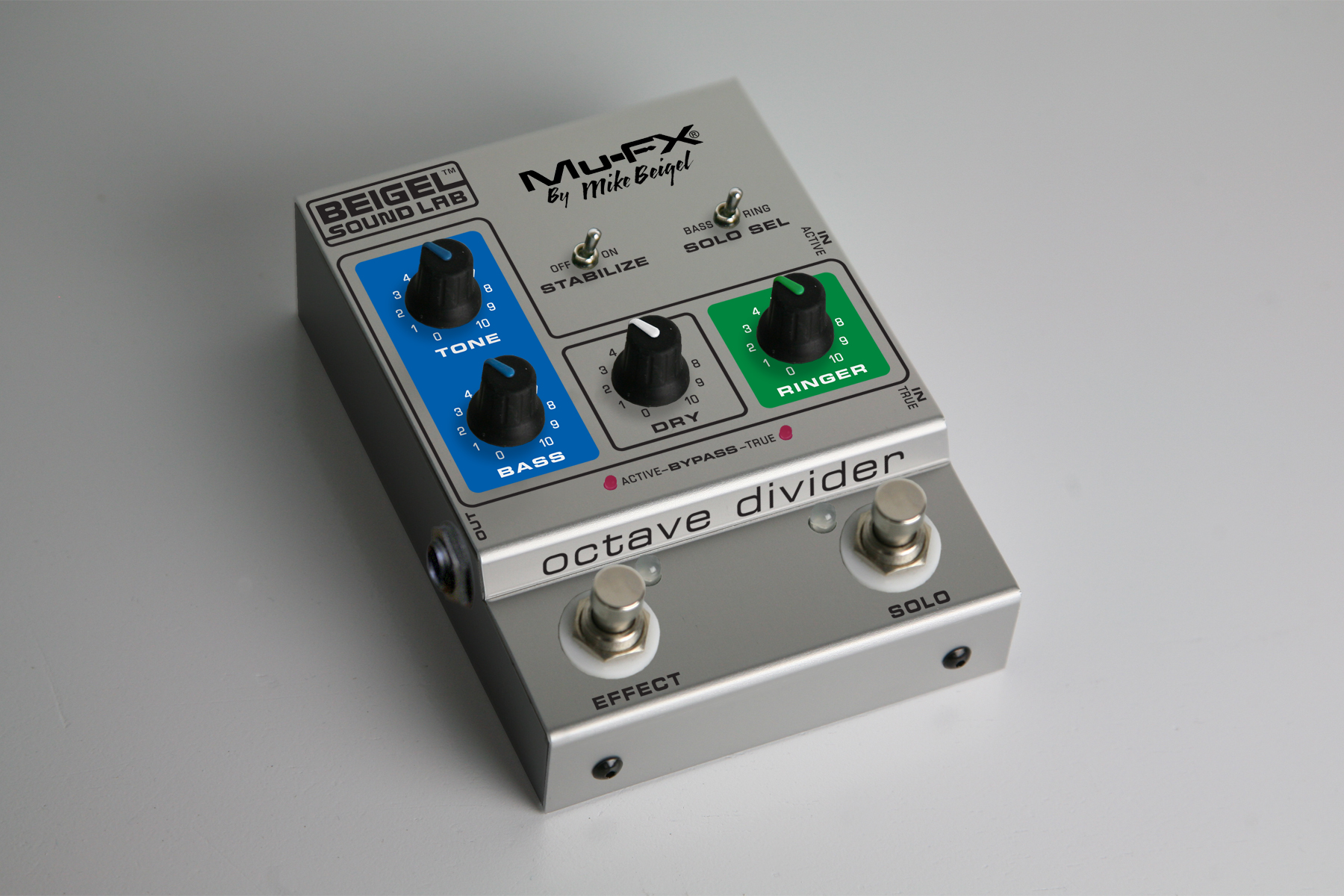 Mu-FX Introduces Authorized Reissue of Vintage Musitronics Mu-tron Octave Divider
MikesGig is supported by its audience. When you purchase through links on our site, we may earn an affiliate commission. Read the full disclosure HERE.
Update: 12/3/2014
I had the opportunity last week to test the pre-production Mu-FX Octave Divider and compare it with a 1978 Musitronics Mutron Octave Divider. This new pedal is amazing. It is essentially an update of the original with better tracking and more control. Playing staccato it will track down to low B on a 5 string bass.
Control Wise
There are two overall modes – EFFECT,  and SOLO.
When engaging the EFFECT switch you now have control over the relative mix of BASS-the octave down with a TONE control, DRY-the unaltered input signal and RINGER distortion. You now can dial in just the right amount of octave and ringer – my favorite feature.
When engaging SOLO you have the choice of RINGER only or OCTAVE down only. This footswitch defeats the rotary controls and gives you, via a toggle switch, either 100% ringer distortion or octave down. Sweet.
Sound Wise
If you like the Mutron Octave Divider you will love this pedal. It retains all the moody, dark and brooding tones with updated features and specs. Its substantially lighter and smaller and at half the cost of a hard to find vintage unit. Your search is over.
END OF UPDATE
Just Like The Original Musitronics Octave Divider…Only Better!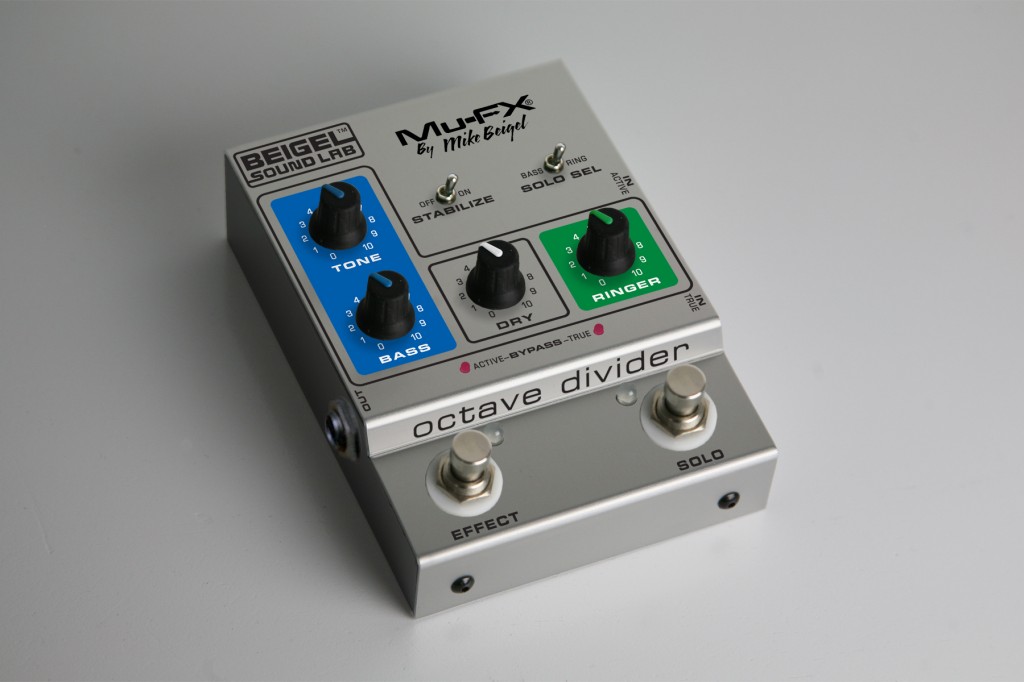 The Mu-FX Octave Divider retains all the versatility and accurate tracking of the original Musitronics Mu-tron Octave Divider pedal, but now in a mini-mu housing that has the authenticity of "the original" in a pedal-board friendly size. Made in the USA with modern manufacturing techniques, the enhanced reissue also offers more versatility of operating modes and features.
Most musicians know that Jerry Garcia of the Grateful Dead used the  Mu-Tron III and the Mu-Tron Octave divider in his celebrated and mysterious "RIG" that produced such inimitable expressive sounds at the artist's skilled touch. Many musicians have searched and paid a lot of money for the original Musitronics Mu-Tron III and Octave Divider vintage models to get that legendary sound. Now we have provided the "as good and BETTER" reissues of those products that are "top shelf" quality but are AVAILABLE and AFFORDABLE compared to the original vintage products, that often must be repaired and refurbished back to their original manufacturers specifications.
Controls:
Bass Mix Pot
Dry Mix Pot
Ringer Mix Pot
Bass Tone Control Pot
Bass Stabilize Switch
SOLO Mode Switch
EFFECT footswitch
SOLO footswitch
LEDs:
Active bypass
True bypass
Effect/bypass tri-color LED
Solo Mode tri-color LED
Preliminary Features & Specifications
1/4″ True Bypass Switching Input Jack
1/4″ Active Bypass Switching Input Jack
1/4″ Output Jack
Signal to Noise Ratio: 85dB or better
Input Impedance: 1 Megohm
Nominal Input Level: -10dBu
Output Impedance: 150 Ohms
Nominal Output Level: -10dBu
Maximum Output Level: +16dBu
Case: .063" aluminum
Weight: 16.3oz/462g (unit only)
Dimensions: 5.65" x 4.05" x 1.625"
Includes 12VAC 200MA  power adapter
Compatible with 12VAC isolated output pedal board power supplies
1 year limited warranty
Made in USA to ISO 9001 standard
Included in the box:
Octave Divider
12VAC power supply with 2 wire AC to unit barrel jack cord
Manual
Order Now!
Expected Delivery Date is 11/25/2014
Currently available direct only from Mu-FX at www.mu-fx.com.