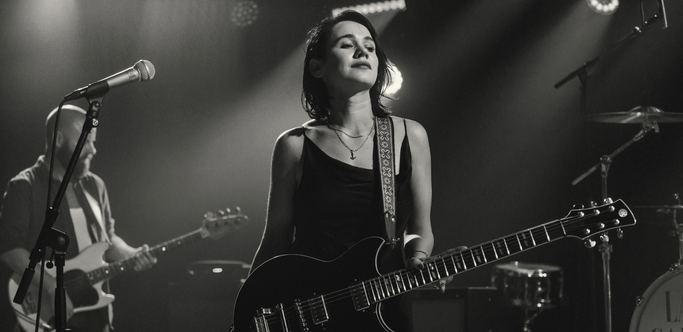 Laura Carbone Premieres "Who's Gonna Save You" in A Spellbinding Performance With Her New Single And Video
MikesGig is supported by its audience. When you purchase through links on our site, we may earn an affiliate commission. Read the full disclosure HERE.
Oct 30, 2020 — Today, Berlin-based dreamadelica rocker Laura Carbone premieres the first single "Who's Gonna Save You" from her forthcoming album Laura Carbone – Live at Rockpalast. The single is accompanied by an alluring video, sonically driven by its taunting, foreboding bass, as a furtive lady in red emerges from the shadows, overlooking her realm. And then the question, "Who's gonna save you?"
When Laura Carbone and her band kick in with the "Live at Rockpalast" rendition of "Who's Gonna Save You?" you'd be forgiven for thinking she's just conjured up a storm that's long held the world breathless. Switching between the B-&-W grit of her 2019 Rockpalast show and Laura's other role in the video as the crimson-clad water nymph protecting her natural habitat, the imagery highlights the duality of the artist, as well as the voices that struggle within each of us.
The footage of Laura Carbone in the red dress was shot and directed in September 2020 at Berlin's Märchenbrunnen, or "Fairytale Fountain," in Volkspark Friedrichshain by visual artist and Underground Youth drummer Olya Dyer, who comments,
"To have this immaculate beauty yet melancholic aftertaste blended with the energy of the live performance is incredible. It's a solitary present mixed with a crowded past."
A fragility with a thick skin, her toughness genteel, her tenderness endless and her ferocity formidable, Laura sings, "Dear love, you better get some shelter," and you have to ask, is it caring advice, or a veiled threat? Laura Carbone is both fairy and fury, protective of her core, her integrity, her oasis of calm in a world of spiraling chaos, where the question remains: Who's gonna save you?
While everyone is missing the experience of attending live performances there's no better time to witness Laura Carbone's spellbinding talent, her arresting voice, silver-tongued lyrics, and a penchant for channeling 80s-90s dark wave pop than on her upcoming live performance album Live at Rockpalast.
MORE ABOUT THE FORTHCOMING ALBUM
As a young teenager growing up in a small town in southwestern Germany, Rockpalast was the exact kind of show that Laura stayed up late on Saturday nights to watch. Rockpalast has recorded and broadcast legendary, life-changing live shows by Siouxsie & The Banshees, Radiohead, Sonic Youth, Patti Smith, Sinéad O'Connor, David Bowie to name just a few, and now Laura Carbone stands amongst those names. Little did she know, this performance would be history in the making for reasons other than the obvious.
Laura's 3rd studio album was set to be recorded in May 2020, but things came to a halt when the world went into lockdown. Instead an idea emerged with Laura and the band – "What if Rockpalast would let us release that show as a live album?" And that's exactly what Laura Carbone – Live at Rockpalast is. The album will be released digitally December 4th, 2020.
"Who's Gonna Save You" is the first single released of 12 songs, taken from Laura's first two albums Sirens and Empty Sea, with one wholly unexpected cover thrown in for good measure. The album was mixed in Los Angeles by Scott Von Ryper from The Jesus & Mary Chain and mastered by Philipp Welsing at Original Mastering in Hamburg, with no overdubs whatsoever. 75 minutes of shared joy, pain, fear, tears, anger, confusion, elation, noise, sweat, attitude and gratitude.