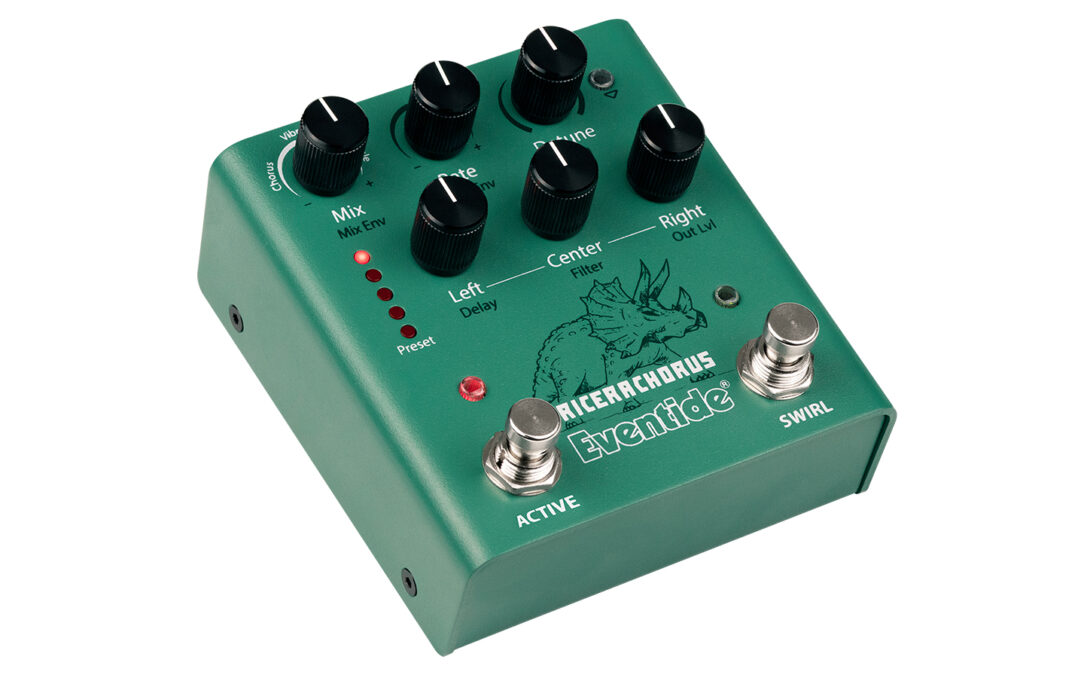 Introducing Eventide TriceraChorus – A World of Swirl
MikesGig is supported by its audience. When you purchase through links on our site, we may earn an affiliate commission. Read the full disclosure HERE.
Inspired by the classic Tri-Stereo Chorus and stompbox choruses of the 1970s and early 1980s, the TriceraChorus pedal pairs rich Bucket Brigade-style chorusing with Eventide's legendary MicroPitch detuning for a lushness that rivals the jungles of the late Cretaceous Period. TriceraChorus features three chorus voices and three unique chorus effects which can be used to create a wide stereo spread with pulsing waves of modulation. The innovative "Swirl" footswitch adds psychedelic flanging, phasing, and Univibe-style tones. It has never been easier to dial in syrupy smooth, deep modulation on guitar, bass, synths, strings, vocals, and more.
Features
Three independent chorus voices: Left, Center and Right
Three chorus types: Chorus, Vibrato, Chorale for a wide array of tonal possibilities
Dedicated "Swirl" footswitch capable of generating psychedelic flanging, phasing and Univibe-style tones
Five presets loaded at your feet with dozens more available with Eventide Device Manager (EDM) software
Dual-action Active Footswitch is latching or momentary.
Rear panel Guitar/Line Level switch for matching levels with guitar, synths, FX loop or DAW interface
Map any combination of parameters to an expression pedal.
Use a single aux switch to tap Rate or a triple aux switch for easy preset changing (up/down/load).
MIDI capability over TRS (with MIDI to TRS cable or converter box) or USB (with MIDI-host controllers)
Multiple Bypass options: Buffered, Relay, DSP+FX or Kill dryCatch-up mode helps dial in your sound when toggling between presets/parameters.
Eventide Device Manager PC or Mac application for software updates, system settings and creating/saving presets