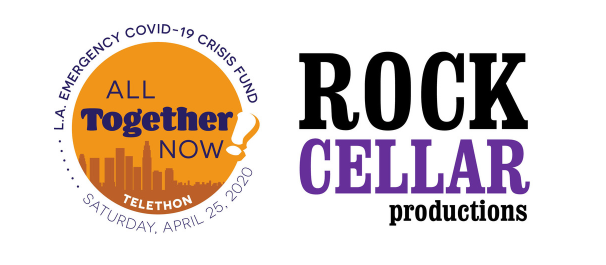 Free Online Concert Streaming April 25 From Rock Cellar Productions
MikesGig is supported by its audience. When you purchase through links on our site, we may earn an affiliate commission. Read the full disclosure HERE.
Online concert event, helping the city of Los Angeles, is set to feature prominent entertainers such as Smokey Robinson, Rick Springfield, Jeff Bridges, Mike Love, Mickey Dolenz (The Monkees), Paul Rodgers, Mickey Thomas (Jefferson Starship), Bobcat Goldthwait and dozens more
On Saturday, April 25, at 2 p.m. PDT, Rock Cellar Productions, in association with the Get Together Foundation, will present ALL TOGETHER NOW! – an online concert event helping the City of Los Angeles during the coronavirus pandemic. The concert is set to be a major and significant relief effort to help Angelenos cope with the severe restrictions imposed on everyone during this dangerous and uncertain time of the novel coronavirus crisis. All Together Now! will be broadcast through Alert the Globe (www.alerttheglobe.com) and available free to anyone who wants to see it.
The concert will feature an array of talented singers, songwriters, musicians, actors, authors, comedians, and celebrities of all sorts "coming together" to perform and send positive messages out to the City of Los Angeles and the world. A growing list of prominent entertainers has been pledging participation in the event, including Smokey Robinson, Rick Springfield, Mindi Abair, Paul Rodgers, Melissa Manchester, Mickey Thomas (Jefferson Starship), Mary Wilson (The Supremes), Mickey Dolenz (The Monkees), Bobcat Goldthwait and dozens more, joining the previously announced participants Jeff Bridges, Mike Love (The Beach Boys), Lisa Loeb, Steve Lukather (Toto), Vonda Shepard, Peter Beckett (Player), Alan Parsons Live Project, and Jesse Colin Young. The list continues to grow, and further updates will be announced in the weeks leading up to this landmark event.
Keeping with the strict "stay at home" regulations of health authorities and the guidance of local, state, and federal government officials, this virtual once-in-a-lifetime streaming event will give fans their music fix in the comfort of their own homes.
Viewers can donate to the L.A. City Coronavirus Relief Fund (https://mayorsfundla.org/covid19/) through a direct donation button or a text message appeal. 100% of the money raised will go directly to this relief fund to help Los Angeles support families and small businesses, relieve healthcare workers, provide critical medical resources, provide services to the unhoused, and fund research for COVID-19.
Supporters will enjoy not only a concert of immense talent, but one that includes being part of the bigger picture – one that embraces Los Angeles and a cross section of our community, which includes all those who have lost their jobs and have limited or no means of income until this pandemic passes.
If you love good music and helping people in need, don't miss it. This is going to be a beautiful effort where success and generosity come together to truly impact lives.