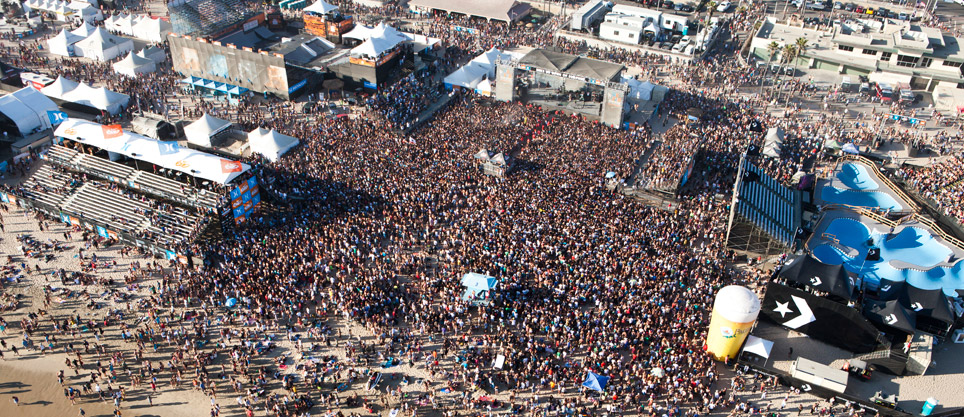 Free Concerts and More at 2012 Nike US Open of Surfing Huntington Beach
After an unprecedented showing last year, the Nike US Open of Surfing® will kick off on July 28th in Huntington Beach.
MikesGig is supported by its audience. When you purchase through links on our site, we may earn an affiliate commission. Read the full disclosure HERE.
Huntington Beach, CA – After an unprecedented showing last year, the Nike US Open of Surfing® will kick off on July 28th in Huntington Beach for what has become one of the most anticipated surf, music and lifestyle events of the year. Title sponsor Nike – along with presenting sponsors Hurley and Converse – continue to elevate the event which will attract over three quarters of a million fans and onlookers along a 14-acre stretch of sand on the south side of Huntington Beach Pier, showcasing the best in surf, skate, music, and art.
"The US Open of Surfing is the epicenter for action sports culture. This year we will introduce the biggest stadium in surf and largest skate contest on the beach as the top action sports athletes, art and music talent hit the sand in Huntington," said Sandy Bodecker, VP Nike Action Sports.
The 2012 Nike US Open of Surfing will run from July 28 to August 5. All events are free and open to the public and can be viewed live daily at www.usopenofsurfing.com. With more than 3.6MM+ webcast viewers last year, the webcast broke viewership records and expects to deliver content to even more viewers worldwide this year. The event is owned and produced by IMG, the global leader in sports and entertainment.
Fans will see all of their favorites battle it out again this year in surf and skate's biggest stadium spaces on both water and sand. This year's surf stadium and skate arena will take the competition to another level! Anchored by the world's largest professional surfing competition, the US Open is a pivotal point on the ASP World Tour for both the men and women. For the men, a win at the US Open – a North America ASP Men's Prime event – will earn them valuable points toward a coveted Top 32 world ranking. And for the women, the US Open of Surfing(r) marks the final stop on the 2012 ASP World Title Tour. With everything on the line and a close race for the World Title, the US Open will potentially crown a women's World Champion in Surf City this summer.
"The US Open is the biggest stage in competitive surfing, and I'm excited to compete again in Huntington, where the world's best athletes come together to vie for one of the most prestigious titles in the sport," said Carissa Moore, 2011 Women's World Champion.  "To compete in an arena with surfing at center stage is a dream come true, and I'm putting everything on the line to bring home the US Open title again."
"There is no other event like the US Open of Surfing. Together with Nike, Hurley and Converse, we have created the ultimate arena for athletes, musicians and artists to showcase their talent," says James Leitz, Senior Vice President of IMG. "With hundreds of thousands of people coming down to the beach to celebrate action sports, the atmosphere is electric, vibrant and youthful. This US Open of Surfing is the epitome of the California lifestyle."
From the water to the sand, the action doesn't stop. Converse Coastal Carnage, a pro/am skateboarding competition, will once again host the most talented and diverse crew of riders from across the globe as they compete in a state-of-the-art skate bowl with ground breaking tricks for a piece of the $90,000 prize purse. And for the first time, Nike Skateboarding is hosting the Damn Am HB presented by Nike Skateboarding, will be featuring the world's top amateurs showcasing their skills on the ultimate street course inspired by the best street spots from around the world. In addition one of the week's most popular events, the US Open Music Stage, will host a soon-to-be-announced lineup of bands that will surely rival last year's MGMT performance in front of hundreds of thousands of screaming fans.
Coupled with one-of-a-kind retail and brand experiences, public skate courses, movie premieres, 100 interactive exhibits, autograph signings, DJs and giveaways, it will be a summer to remember at the Nike US Open of Surfing. Be ready to dive into the madness starting July 28.
The Nike US Open of Surfing is proudly sponsored by Casio G-Shock, Red Bull, Pacifico, Paul Mitchell Salon Haircare, TransWorld Media, Verizon Wireless, Casio G'zOne and 7-Eleven.
The Nike US Open of Surfing airs on NBC Saturday, September 13, 2012 at 1:30 pm EST as part of the "Red Bull Signature Series."  Nike partnered with the Red Bull Signature Series on events including Supernatural, Lowers Pro and the US Open of Surfing, to support some of the most progressive and innovative surfing, snowboarding, and skiing action sports events.
Note: Events may change at anytime without notice. Check directly with venue for details.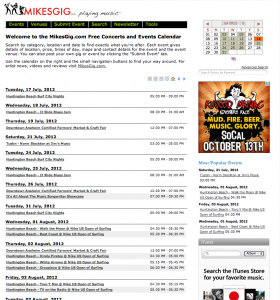 Information found on this site has been taken from public records, given by responsible officials of the venues listed or from other reliable sources. Mikesgig.com has made a reasonable attempt to insure that the information contained within it's concert listings, web content, FREE Listings, Concerts, and other Content is accurate. Mikesgig.com is not responsible for fire, rain, weather, artist, artist management, location and/or building, mud slide, riot, earthquake, tsunami, act of GOD, alien abduction, flat tire, ran out of gas, scheduling changes or any other reason that the activity is not available as described at the time, place and/or date indicated. A phone number has been provided when possible for you to call ahead and confirm. Mikesgig.com is only a service to provide this information and does not promote or take responsibility for any action that takes place at the venues listed. Mikesgig.com does not provide information on activities where the primary theme is of a religious or political nature. Mikesgig.com will not knowingly give information on any illegal activity. Mikesgig.com does not endorse or make any recommendation as to any venue or artist.