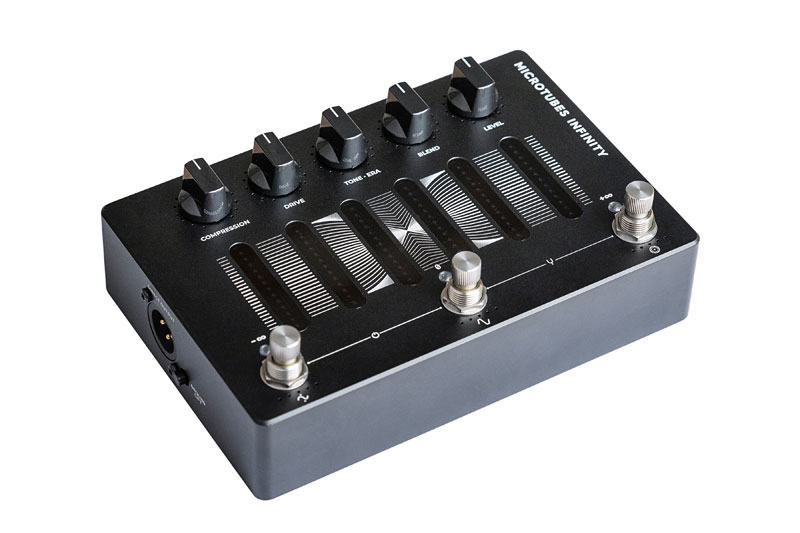 Darkglass Electronics Introduces Microtubes Infinity Pedal For Bass Guitar
MikesGig is supported by its audience. When you purchase through links on our site, we may earn an affiliate commission. Read the full disclosure HERE.
To Infinity and beyond! New processor combines all three Darkglass Microtubes distortions (B3K, Vintage and X) and compression into one pedal
Microtubes Infinity shares the footprint of the Darkglass programmable line, packed with the three legendary Microtubes distortions: B3K, Vintage and X. It allows multiband compression on every mode and blending Impulse responses (IR) between distortions, offering infinite sonic possibilities.

Compression and distortion can be bypassed independently, and each has five selectable modes. The pedal also offers selectable cabinet simulation with five on-board IRs. A six-band graphic EQ is also featured, featuring the same touch-sensitive sliders found on the Darkglass Element pedal. And crucially, all settings can be saved as presets.
Watch this SBL video that gives a great overview of the Microtubes Infinity Pedal

The Microtubes Infinity offers advanced I/O, designed to thrive in both recording and live scenarios. It offers the choice of a headphone output, XLR DI output, or stereo line outputs. A MIDI input (MIDI-over-1/8″) allows users to externally control parameters. The pedal can also be used as a full audio interface (over USB-C), with four channels of audio in and stereo outputs capable of powering studio monitors.
Connectivity:
• Mono instrument input (1/4″)
• Aux input (1/8″ stereo)
• L and R audio outputs (2 x 1/4″)
• XLR DI output
• Headphone output (1/8″ stereo)
• USB-C (Audio interface and Darkglass Suite)
• MIDI input (1/8″ TRS)
• Bluetooth (audio in and Darkglass Suite)

Where to buy:
The Darkglass Microtubes Infinity is now available with U.S. MAP pricing of $599.99.For more information about Darkglass Electronics, visit www.darkglass.com.
Darkglass at NAMM