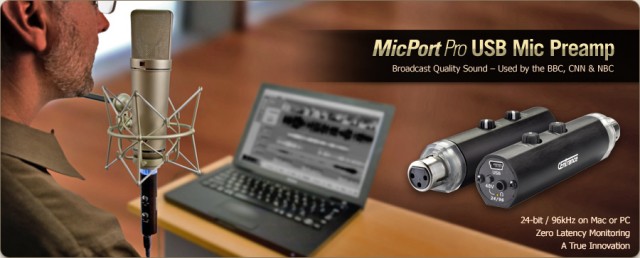 Centrance Micport Pro USB AD/DA
MikesGig is supported by its audience. When you purchase through links on our site, we may earn an affiliate commission. Read the full disclosure HERE.
Convert any mic into a 24/96 USB microphone.
I met with Michael Goodman of Centrance, at THE Show – Newport Beach 2011, to get the  low down on his high end line of portable AD, DA and AD/DA converters. They build 3 dedicated products, all in a similar form factor, with a 24/96 converter to USB interface. They are; the Micport Pro – for microphones, the Axeport Pro – for guitars, basses and other instruments, and the Dacport – for headphones.
Micport Pro
The CEntrance MicPort Pro is the easiest way to capture a professional-quality vocal take, communicate with clarity over Skype or record studio-grade instrument samples. Much more than a simple XLR to USB adapter, the MicPort Pro is the only portable mic preamp with a built-in, 24bit/96kHz, broadcast-quality A/D converter – a CEntrance exclusive. It captures the cleanest signal, making it an ideal choice for professional recordings. The built-in loud headphone amp and studio-grade knobs make it both useful and convenient on the road.
 MicPort Pro is used by the BBC, CNN, NBC, CBS, ABC, NPR, Harpo Studios, Warner Brothers, and professional musicians and voiceover artists worldwide. MicPort Pro is instantly compatible with Windows XP/Vista/7, Mac OS X 10.4 and above, and Linux. No batteries. No latency. No headaches. Just plug in and record.
Features
Lowest-noise mic preamp with 24-bit/96kHz A/D converter for extra clarity in recordings
103.5dB dynamic range, perfect complement to high-end condenser and ribbon mics
48V phantom power — compatible with all professional mics
Loud headphone amp for zero latency monitoring – works with any headphones
Studio-grade control knobs for Preamp Gain and Headphone Volume
Stereo capability — record in stereo with twoMicPort Pro/AxePort Pro units (Mac & PC)
Stylish and sturdy aluminum body that's only 4.5 inches (11.5 cm) long
Applications
MicPort Pro is powered from the USB port and needs no batteries. Aside from recording music and vocals, it is perfect for Skype users requiring extra clarity in communications, Test & Measurement applications demanding flat frequency responce, and anywhere else where portability, studio quality and ease of use are required features.