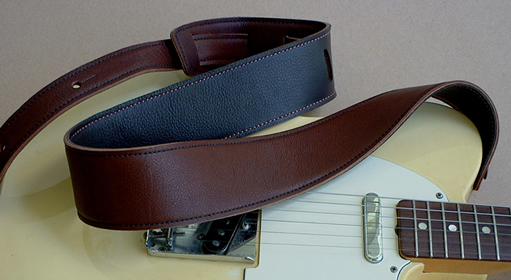 Carlos Santana and El Dorado Leather Guitar Straps
MikesGig is supported by its audience. When you purchase through links on our site, we may earn an affiliate commission. Read the full disclosure HERE.
As featured with Carlos Santana on the cover of Guitar Player Magazine.
Individually crafted by skilled artisans in the traditional methods of fine saddlemaking, El Dorado leather guitar straps exemplify the fine art of hand-tooled Western leatherwork and hand-engraved metalwork. Made in Pasadena, California.
The El Dorado Story
Back in 1991, I was fortunate to acquire a beautiful sunburst '69 Telecaster™ Thinline guitar. To compliment this special instrument, I envisioned an equally beautiful hand-tooled leather guitar strap. Confident that I could find such a strap, I headed down to my local guitar store… and then spent the next six years looking all across the country for one, never finding anything remotely close to what I wanted.
Finally, I resolved if I couldn't find such a strap, I'd make them; so began El Dorado Guitar Accessories.
Our skilled craftsmen, in the traditional methods of fine saddlemaking, using top-quality saddle leather hand-tooled in authentic Western leatherwork designs, hand-engraved bucklework, and genuine sheepskin shearling, create truly unique straps worthy of the finest instruments.
If you have been searching for the perfect strap for your prized guitar, welcome to El Dorado.
Bill Silverman, El Dorado Guitar Accessories
eldoradostraps.com