From American Bandstand to New Year's Rockin' Eve, Clark Has Left an Indelible Mark on American Pop Culture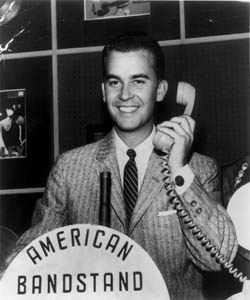 Anyone who grew up in the pre-internet days of the 50s was drawn to the family television nitely to watch American Bandstand which first aired nationally on August 5, 1957. On that day, Clark interviewed Elvis Presley.  Clark when on to be the biggest name non-musician in the music industry and is responsible for putting the spotlight on countless performers and hit songs as well as himself becoming a household name.
Clark produced American Bandstand for syndicated television and later the USA Network, a cable-and-satellite-television channel, until 1989. Clark also hosted the program in 1987 and 1988; David Hirsch hosted in 1989, its final year. American Bandstand and Dick Clark himself were honored at the 2010 Daytime Emmy Awards.
The $10,000 Pyramid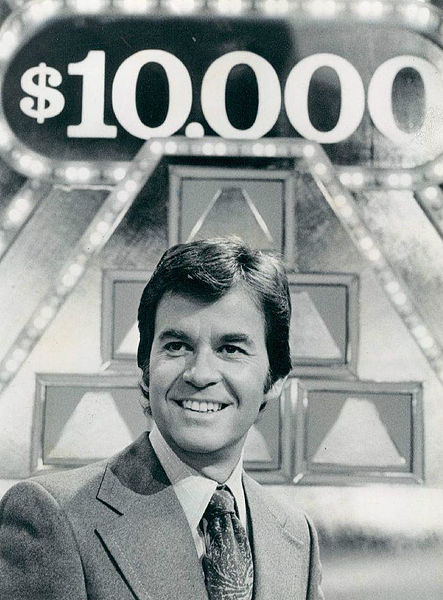 Clark later became host of The $10,000 Pyramid, which premiered on CBS March 26, 1973 (the same day as The Young and the Restless). The show — a word association game created and produced by daytime television producer Bob Stewart — moved to ABC from 1974 to 1980, during which time the top prize was upgraded to $20,000. After a brief 1981 syndicated run as The $50,000 Pyramid, the show returned to CBS in 1982 as The New $25,000 Pyramid, and continued through 1988, save for a three month break. From 1985 to 1988, Clark hosted both the CBS $25,000 version and a daily $100,000 Pyramid in syndication. His daytime versions of Pyramid won nine Emmy Awards for best game show, a mark that is eclipsed only by the twelve won by the syndicated version of Jeopardy!. It also won Clark three Emmy Awards for best game show host.
Dick Clark's New Year's Rockin' Eve
In 1972, Dick Clark produced his first New Year's Eve broadcast for NBC. The special, Three Dog Night's Year's Rockin' Eve 1973, aired on December 31, 1972, and was hosted by the members of the rock band Three Dog Night. The program also featured performances by Blood, Sweat & Tears, Helen Reddy and Al Green, pre-recorded from the ballroom of the Queen Mary in Long Beach, California. Clark produced the telecast with a younger audience in mind, titling it New Year's Rockin' Eve in order to emphasize the fact that the show would be a contrast from Guy Lombardo's specials. He had felt that Lombardo's broadcasts had alienated younger viewers due to its reliance on big band music and "people dancing cheek-to-jowl in their tuxedos and funny hats."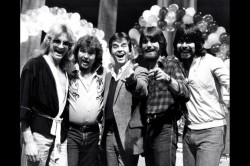 The second special, New Year's Rockin' Eve 1974, also on NBC, was hosted by comedian George Carlin and featured musical performances by The Pointer Sisters, Billy Preston, Linda Ronstadt and Tower Of Power — which were also pre-recorded from the Queen Mary Beginning on the 1975 edition, the program moved to ABC, and Clark assumed hosting duties. Following Guy Lombardo's death in 1977, Dick Clark's New Year's Rockin' Eve quickly became a television tradition of its own — Dick Clark would host the special for thirty-three straight years. Ryan Seacrest has been the program's co-host since the December 31, 2005 telecast.
Dick Clark died at 82 on April 18, 2012 of an apparent heart attack. He had been in poor health since a debilitating stroke in 2004. He will be missed.