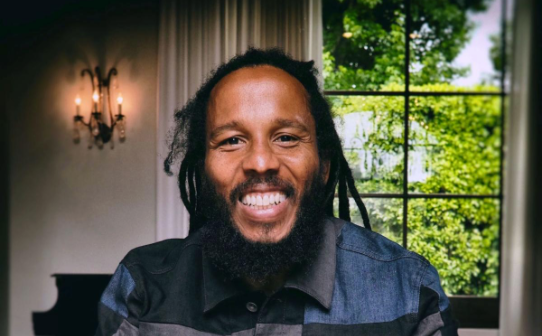 Ziggy Marley Teams Up With The Gibson Generation Group (G3)
MikesGig is supported by its audience. When you purchase through links on our site, we may earn an affiliate commission. Read the full disclosure HERE.
The eight-time GRAMMY® award-winning musician and philanthropist Ziggy Marley teamed up with Gibson for a livestream Q&A across the globe.
In the intimate and inspiring Q&A and performance, Ziggy takes a deep dive revealing his past and present musical influences, receiving his first GRAMMY Award, parenting during the pandemic and his home life, as well as, bringing his friends Ben Harper, Sheryl Crow and more together to create his heartfelt new album More Family Time.
Ziggy takes on thoughtful questions worldwide from members of the Gibson Generation Group (G3)–a global collective of talented young guitar players who receive one-on-one career mentoring the Gibson team–as well as, music students from Glenthorne High School in the U.K., A'DAM Music School in Amsterdam, Netherlands, and Park Slope Rock School in Paris. The interview ends as the G3 members–Marina Paz Otero (G3, Spain), Jayden Tatsciore (G3, Australia), Asher Belsky (G3, USA), Jack Goodacre (G3, U.K.), Noah Eckstein (G3, USA), Carter Wilkinson (G3, USA)–and the students from three music schools perform Ziggy's new song "Play With Sky" live in front of him.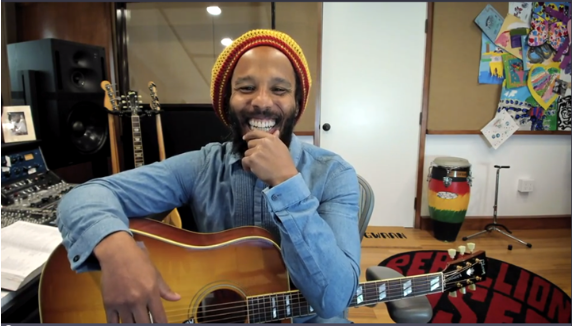 When quarantine launched and everyone was at home, Ziggy brought together his friends to create his new album More Family Time. Ziggy's new album features 10 uplifting songs and collaborations with Ben Harper, Sheryl Crow, Lisa Loeb, Tom Morello, Busta Rhymes, Angelique Kidjo, Alanis Morissette, Stephen Marley, as well as appearances from his children Judah, Gideon, Abraham and Isaiah. Ziggy says "Even though we weren't in the same place doing the songs, music is such a strong connection between us as artists and musicians that we can still feel connected even though we aren't in the same place because of music. It brought it back to me that music is a strong connective tissue to us that we can still feel a sense of togetherness through the music."
Listen and share Ziggy Marley's new album More Family Time, available now: https://www.ziggymarley.com/morefamilytime.
About Ziggy Marley:
An eight-time GRAMMY® winner, EMMY® winner, humanitarian, singer, songwriter and producer, Ziggy Marley has released fifteen albums to much critical acclaim. Now with his own label Tuff Gong Worldwide, and publishing company Ishti Music, Marley has complete control of his master recordings and publishing. His early immersion in music came at age ten when he sat in on recording sessions with his father, Bob Marley. After eight records with The Melody Makers and three GRAMMY® Awards, with such chart-topping hits as "Look Who's Dancing," "Tomorrow People" and "Tumbling Down," he kicked off a legendary solo career in 2003 with Dragonfly. He impressively garnered the GRAMMY® Award for "Best Reggae Album" in 2006 (Love Is My Religion), 2013 (In Concert), 2014 (Fly Rasta) and 2016 for the self-titled Ziggy Marley – which marked his fourth consecutive debut at #1 on the Billboard Top Reggae Album Chart. His first children's album Family Time received the 2009 GRAMMY® for "Best Children's Album," and he also took home a Daytime EMMY® Award for "I Love You Too," which shares its title with his 2012 debut children's book, a multicultural picture collection based on the beloved song, which explores a child's relationship with parents, nature and the unstoppable force of love. He released his most recent album, More Family Time, this past September.
About Gibson Generation Group:
The Gibson Generation Group, or G3, is Gibson's two-year, global mentoring program for new generations of guitar players. G3 members are endorsed by Gibson Brands and showcased across Gibson's platforms, reaching hundreds of millions of viewers across the globe. G3 members receive one-on-one mentoring from Gibson's Entertainment Relations team, and the opportunity participate and perform at Gibson Experiences and Events. G3 members preview new guitars and products before they are released, create unique content for a worldwide audience with Gibson TV, and much more. The first G3 class, the class of 2021, is due to graduate in the Summer of 2021. For more information on G3, visit: http://g3.gibson.com/.