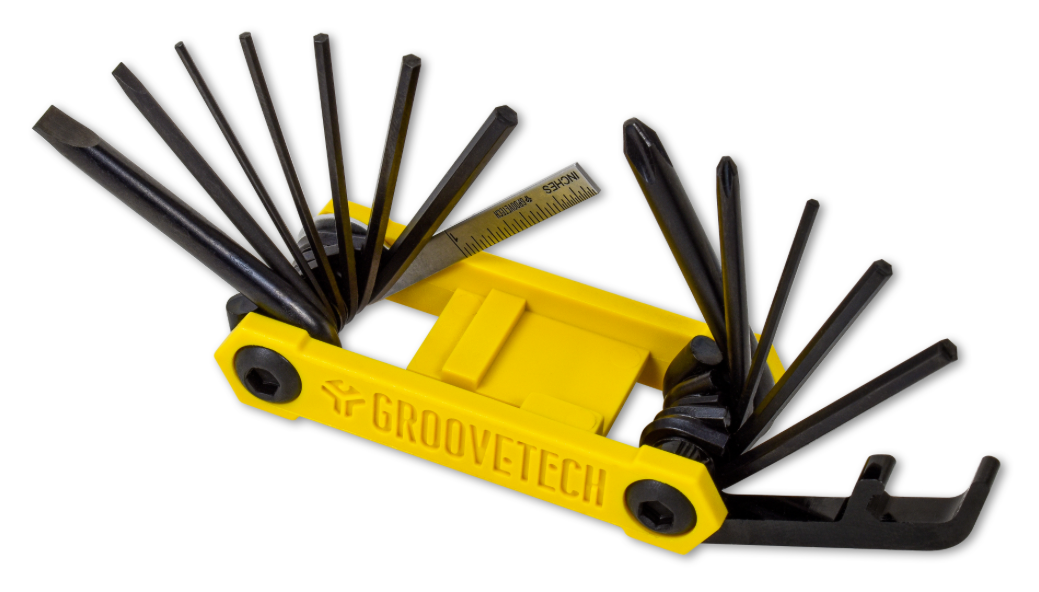 World's Smallest Guitar/Bass Multi-Tool
MikesGig is supported by its audience. When you purchase through links on our site, we may earn an affiliate commission. Read the full disclosure HERE.
 GrooveTech's Mini-Multi™ packs fourteen tools into tiny fold-up unit 
GrooveTech Tools today announced availability of its newest guitar and bass multi-tool, the Mini-Multi™. 
Based on the premise that some players don't adjust truss rods using a multi-tool, GrooveTech concentrated on action, tremolo systems, intonation, pickup height, and most other adjustments on guitars and basses. The Mini-Multi consolidates fourteen tools into a body that's less than three inches long. Included are eight hex wrenches, four screwdrivers, and a precision ruler. And for those important moments, a bottle opener is provided.
Sizes are both metric and inch for use on most makes and models of guitars and basses. Tools are pro-grade and made to precision tolerances. The Mini-Multi has a street price of $11.95 and is available now from local music stores and online retailers; part number is GTMM2. Patents are issued and pending.
Those wanting truss rod adjustment from their multi-tool should consider GrooveTech's popular GTMLT1 that has five truss rod sizes plus other tools in a slightly larger format. 
GrooveTech makes tools for musicians that are sold through dealers and distributors worldwide. For more information, please contact the company at PO Box 250, Standard, CA 95373 USA, phone 209-536-0491, Toll-Free 888-909-8665, [email protected], or visit www.groovetechtools.com. 
Mike's Notes:
Another fine tool from Dan at GrooveTech. I have found the GTMLT1 to be an indispensable addition to my gig bag – well-made with all the tools you need in a pinch and in a gig bag friendly package.