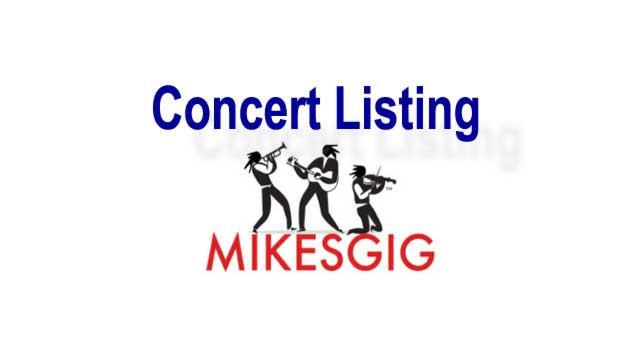 What to do. Take your Friends and Family to a Free Event or Concert, a List is provided by MikesGig
Fun things to do with your friends and family.
MikesGig is supported by its audience. When you purchase through links on our site, we may earn an affiliate commission. Read the full disclosure HERE.
Don't know what to do? You can find a list of FREE events at MikesGig.com. If you know of any event that your would like to publish, please contact us and we will be happy to provide a listing to help you promote your school activity, church, an artist with a disability, and charity event for free.*
[raw][/raw]
Free Concert – nyc new york;New York;Chicago; Huntington Beach Bella Terra, Surf City Nights, Central Park Bandstand, International Surfing Museum, Nike US Open of Surfing, Pier Plaza, Edison High School, The Strand. Orange County – Orange County Market Place, Pepperland Music, Segerstrom Center for the Arts, South Coast Plaza, St. Andrew's Presbyterian Church, Jim's Music, Keyboard Concepts, RICHARD NIXON PRESIDENTIAL LIBRARY, Sam Ash Music Ontario, Los Angeles – Artesia Park, Morgan Park, The Sunset Strip Music Festival, Universal CityWalk Hollywood, West LA Music, Downey Civic Theatre, Los Angeles County Museum of Art, PANTAGES THEATRE, Pasadena Presbyterian Church, Pi on Sunset, Santa Monica Pier, The Fret House, Westlake Professional Audio and many more.
Note: Events may change at anytime without notice. Check directly with venue for details.
* If you need help on listing your event, we will be happy to assist you with uploading your information. You must supply your information or copy/text view e-mail. You also need to be a subscriber to use the event listing page.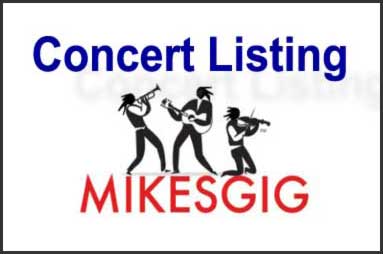 *Information found on this site has been taken from public records, given by responsible officials of the venues listed or from other reliable sources. Mikesgig.com has made a reasonable attempt to insure that the information contained within it's concert listings, web content, FREE Listings, Concerts, and other Content is accurate. Mikesgig.com is not responsible for fire, rain, weather, artist, artist management, location and/or building, mud slide, riot, earthquake, tsunami, act of GOD, alien abduction, flat tire, ran out of gas, scheduling changes or any other reason that the activity is not available as described at the time, place and/or date indicated. A phone number has been provided when possible for you to call ahead and confirm. Mikesgig.com is only a service to provide this information and does not promote or take responsibility for any action that takes place at the venues listed. Mikesgig.com does not provide information on activities where the primary theme is of a religious or political nature. Mikesgig.com will not knowingly give information on any illegal activity. Mikesgig.com does not endorse or make any recommendation as to any venue or artist.