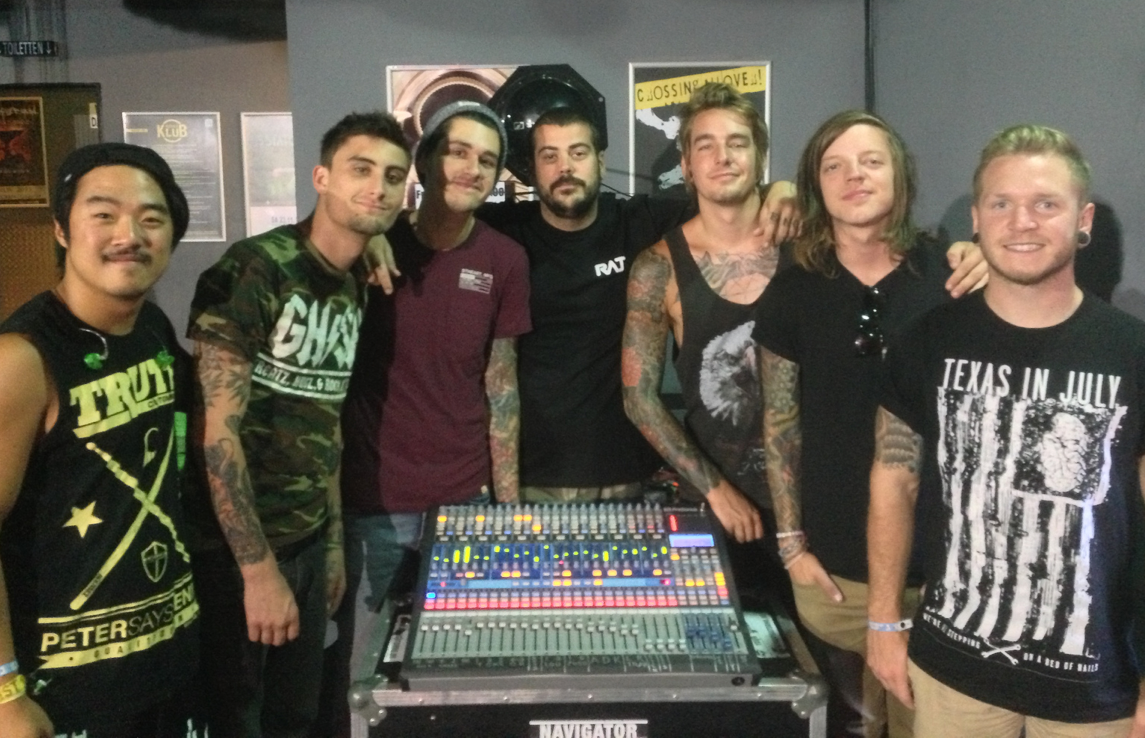 We Came As Romans Conquers with PreSonus StudioLive
MikesGig is supported by its audience. When you purchase through links on our site, we may earn an affiliate commission. Read the full disclosure HERE.
Fueled by the massive success of their sophomore release, Understanding What We've Grown To Be, Michigan metalcore giants We Came As Romans have hit the road in support of their third full-length album, Tracing Back Roots. After closing out their second triumphant year on the Vans Warped Tour, the band is off to Europe for a busy run of summer festivals including Pukkelpop, Lowlands, and Chiemsee, before kicking off a headliner tour of the US and Warped Tour dates in Australia.
WCAR tour manager and front-of-house engineer Bryan Campbell is a touring veteran who has logged his own share of frequent flyer miles, working with bands like Cold, Taproot, and In This Moment. The PreSonus® StudioLive™ 24.4.2 digital console has long been an important part of his arsenal.
"I discovered the StudioLive when I was touring with Cold," he says. "I was immediately impressed with the power and the features they had packed into such a small console, and I ended up buying one for myself."
Campbell says his current touring mates were quick to embrace the StudioLive. "When I took over FOH for WCAR, they were using an older 24-channel analog mixer and struggling to run six in-ear mixes with it. I brought my own StudioLive 24 on the tour and set it up to do monitors. I showed the band how to run it the first day – which took about ten minutes – and how to adjust their own mixes using QMix™, and we've never looked back."
Empowering the band to control their own monitor mixes has been far more than merely a convenience, Campbell observes. "For the band, knowing that their in-ear mix will be consistent from one show to the next has had a noticeable effect on their performance," he says.
That sentiment is echoed by vocalist Dave Stephens, who explains, "I used to have only my vocals in the mix, which sounded very dry and isolated. But since we've started using the StudioLive, I've been able to dial in a mix that balances my vocals perfectly with the other instruments. It makes my own show more energetic, and that helps me perform to my fullest potential every night."
Guitarist Joshua Moore agrees, "I think there's been a noticeable improvement in our live sound and performance since we've been able to create individual mixes that suit our own preferences as musicians." Bassist Andy Glass adds, "there's a lot of shows where we don't use bass cabs on stage. If it wasn't for me being able to rely on having a solid mix in my ears every night I would be completely lost.
Thank you PreSonus for giving me the power to rock!"
Campbell says the StudioLive has become an indispensable part of the band's setup. "We played one of the main stages on this year's Warped Tour," says Campbell. "The contracted sound company was providing FOH and Monitor consoles, but we still brought the StudioLive along. We took the fan-out from the main console so we could use the StudioLive for monitors."
Campbell has high praise for other StudioLive features, as well, including the ability to quickly and easily create multitrack recordings using Capture™. He's also tapped into the console's tight integration with S
tudio One®, PreSonus' acclaimed digital audio workstation software. "I've used the StudioLive at FOH, running all my VST plug-ins via Studio One," he says.
That said, Campbell is quick to point out the quality of the StudioLive's own internal processing. "The ability to add dynamics and EQ to every input and aux channel allows me to fine-tune and customize every individual monitor mix – there's nothing else out there in this price range that can come close in terms of features and power and reliability."
Campbell concludes: "Load-in and setup is always hectic, and we don't always get enough time for a full soundcheck. With the StudioLive, I know our monitor mixes are always going to be consistent, every show. Especially for a guy like me who wears a couple of different hats every night, the StudioLive has been a game-changer."