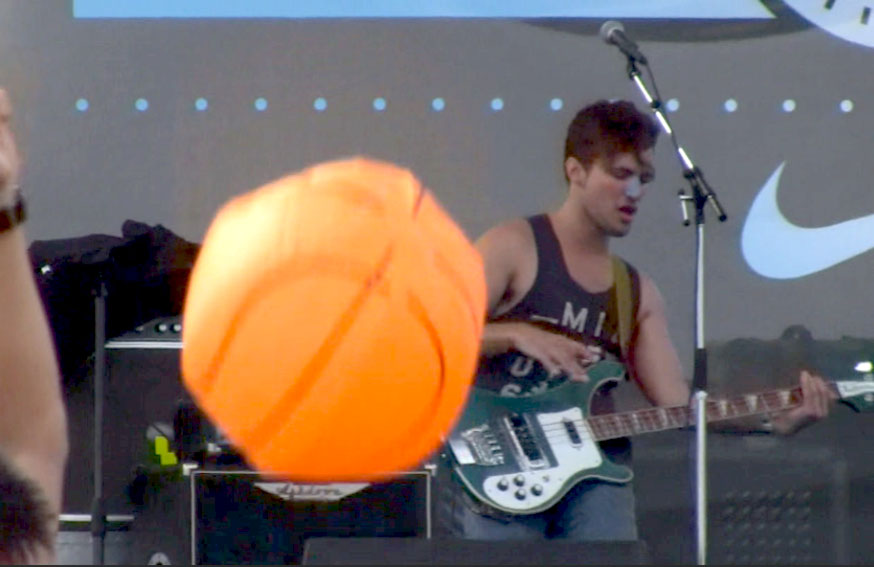 Walk the Moon Takes the Beach at US Open of Surfing
MikesGig is supported by its audience. When you purchase through links on our site, we may earn an affiliate commission. Read the full disclosure HERE.
With a non-stop assault of infectious grooves and melodies, Ohio band Walk the Moon took control of an enthusiastic crowd on the first day of free concerts at the US Open of Surfing in Huntington Beach. Playing for 45 minutes the band opened for Best Coast, the headline act for the day. At one point there was a minor scuffle in the audience but it was quickly subdued by security, and the band implored the crowd to "keep it friendly." The group performed in great form and venue sound was superb.
New CD "Walk the Moon" by Walk the Moon
With songs as vibrant and colorful as an American Apparel window display, Walk the Moon's eponymous sophomore album is radiant with hip dance-pop. Producer Ben H. Allen helps the Cincinnati quartet craft a Brooklyn sound, starting with the opening "Quesadilla," where Nicholas Petricca sings wistfully over pulsing club beats and neon synths. "Lisa Baby" imports jangly guitars that get instantly smothered by a gigantic, distorted bass line before Petricca's falsettos command a smooth downshift in song tempo. "Next in Line" is a summer love jam swooning with an overpowering melody and amorous sentiments. Fans of Foster the People, Air, or Phoenix will find a familiar sleekness and cosmopolitan charm in "Anna Sun," an outstanding number that blends Euro-flavored disco with indie-tinged melancholia. "Jenny" is a robust dance floor epic with big, buoyant rhythms and clever arrangements that somehow keep everything sounding more catchy than complicated. The slower ballad "I Can Lift a Car" closes with emotion, proving that Walk the Moon is more man than machine.
About the Band
Spirited, quirky Cincinnati, Ohio-based indie rockers Walk the Moon formed in the late 2000s around the talents of Nicholas Petricca, Kevin Ray, Sean Waugaman, and Eli Maiman. After independently releasing their 2010 debut album, I Want!, I Want!, the band signed on with Brooklyn, New York-based boutique management company Mick Management, and began work on their follow-up LP with producer/mixer/songwriter Ben Allen at Atlanta, Georgia's Doppler Studios. The resulting eponymous sophomore outing arrived in 2012 on RCA Records.
For a complete US Open of Surfing concert schedule go to MikesGig free concert calendar.
mikesgig