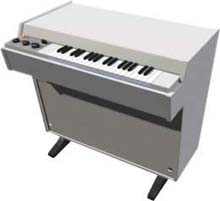 The Mighty Mellotron is Back!
MikesGig is supported by its audience. When you purchase through links on our site, we may earn an affiliate commission. Read the full disclosure HERE.
After a long absence in production, the unique keyboardal orchestra has been updated and invigorated. Of course nothing can replace the electronic hiss, temperament and wavering tape of the original where every gig with it was a new adventure. Used by all self-respecting prog rockers from the Moody Blues to YES to Genesis and even keyboard wizard Char-el, it is now ready for a new generation.
I caught up with this beast, the Mellotron Mark VI, at NAMM 2009 at the Big City Music booth. These puppies start at $6800, and we thought the Mellotron 400 was expensive. Big City is passionate about analog synths and carries scads of them on their web site. Chatting with the guys in the booth I learned that the vintage synth movement is huge in the UK and Europe. Analog is currently experiencing a resurgence in guitar effects, keyboards and drums.