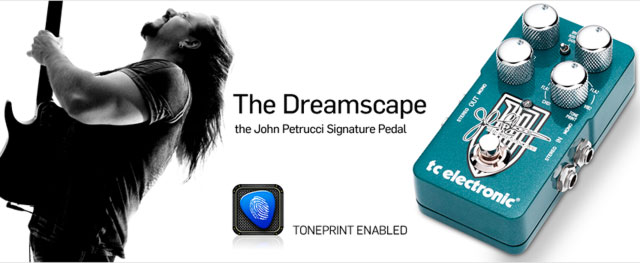 TC Electronic Announces John Petrucci Signature Pedal – The Dreamscape
MikesGig is supported by its audience. When you purchase through links on our site, we may earn an affiliate commission. Read the full disclosure HERE.
Long-time TC guitar effects user John Petrucci has joined forces with TC, taking their collaboration to a whole new level.
John Petrucci was one of the first artists to join TC's revolutionary TonePrint concept. In total, John created 5 personal TonePrints in early 2011 – two for Corona Chorus, two for Shaker Vibrato and one for the Vortex Flanger. John loved having access to all effect parameters so much that he instantly agreed to develop a signature pedal together with TC – one that was based on his own TonePrints.  And so The Dreamscape was born.
John wanted to gather all of his TonePrints into a single pedal even though his original TonePrints are for three different pedals in the series.  Therefore, his new signature pedal contains no less than three mind-blowing modulation effects that have been painstakingly tailored with an eye on even the tiniest detail by the master himself. To take this pedal over the top, John even created a brand new TonePrint for Vortex Flanger taking the total amount of custom-tweaked tones up to six – 2 x chorus, 2 x flanger and 2 x Vibrato.
Further, there is a TonePrint setting for uploading or beaming other TonePrints to the pedal. In short, for all John Petrucci and Dream Theater fans, this pedal is a must-have, and for anybody else, it is a clever way of getting three top-notch modulation effects in a compact pedal that will only take up a minimum of real estate on their pedal boards.
The Dreamscape has four knobs: Speed, Depth, FX Level and one that chooses between the six integrated signature tones and one additional TonePrint. Further, the pedal has a three-way switch for toggling between Bright, Normal and Dark, which is an overall tonal shaping feature chosen by Petrucci. Finally, The Dreamscape also contains all of the great features included in other TonePrint pedals such as true bypass, one-screw-battery-access and a sturdy design made for life on the road.
John Petrucci – The Dreamscape Tour
John Petrucci will be visiting three Guitar Center stores in Manhattan (March 30th), Central Chicago (March 31st) and San Francisco (April 1st), introducing The Dreamscape.  These in store appearances will give musicians the opportunity to hear Petrucci unlock the power of The Dreamscape, take a photo and also get The Dreamscape signed by Petrucci.  The Dreamscape is exclusively available at Guitar Center in the US, and can be pre-ordered at www.guitarcenter.com in early February. and will also be available in the three stores mentioned above on March 16th.  For die-hard Petrucci fans, picking up The Dreamscape online or at one of these exclusive Guitar Center locations ahead of time or online, is a must as Petrucci will only be signing The Dreamscape at these in store appearances. In Canada, Long & McQuade will be the exclusive dealer for The Dreamscape. In the rest of the world, Dreamscape will be available February 2012.
The Dreamscape Main Features
• Six Signature Tones Tailored by John Petrucci
• One Brand New Flanger TonePrint
• Three Mind-blowing Modulation Effects in One Pedal: Chorus, Flanger and Vibrato
• Corona Chorus TonePrints Are Available as The Dreamscape TonePrints
Price: USD 249 / EUR 249