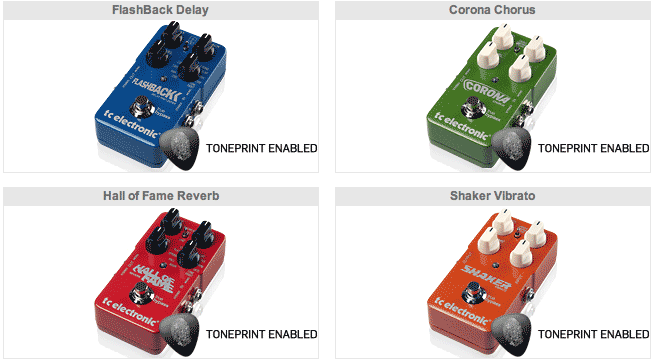 TC Electronic and ProGuitarShop.com – when worlds collide
MikesGig is supported by its audience. When you purchase through links on our site, we may earn an affiliate commission. Read the full disclosure HERE.
TC Electronic is excited to announce five new TonePrints provided by ProGuitarShop.com's video reviewer Andy Martin
(Aarhus, Denmark, 30 March, 2011) When worlds collide, truly great things can happen, and this is exactly the case with the new collaboration between TC Electronic and ProGuitarShop.com. This resulted in five TonePrints made by ProGuitarShop.com's gear reviewer Andy Martin, which will excite guitarists around the world and puts all of Andy's vast knowledge of tone at their fingertips.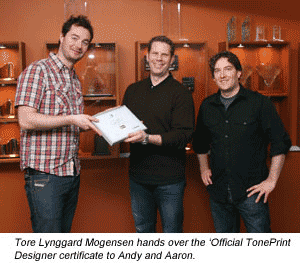 ProGuitarShop.com owner and founder Aaron Miller could not be happier with the collaboration: "TC Electronic and ProGuitarShop.com go way back. We already collaborated last year, when we did a very successful limited edition of TC Electronic's flagship G-System. So naturally, we requested that we sit down and talk about what else we could do, and when I was introduced to the TonePrint concept I was instantly inspired and excited. I totally got the amazing level of customization this brings to our customers and how it truly connects them with the guitarists that inspire them. Added to that, Andy's immense love for tone and knowledge of great sounds makes for a perfect fit with TonePrint."
"I've always loved TC Electronic gear." comments PGS.com's video reviewer Andy Martin. "So when I first got my hands on the TonePrint pedals, I immediately understood how great the TonePrint concept could be. And after I got to play around with the different artist settings, the feeling of 'this is going to be big' only grew. I knew we had to be part of it, so we contacted TC Electronic to see what we could do. Next thing I know, I'm on a plane to Denmark to do my own TonePrints! I'm very proud of the results and am sure TonePrint users will love them too."
Tore Mogensen, TC Electronic's business manager for guitar, added: "The TonePrint program is expanding at a rocking rate and to be able to add someone like Andy, who is very respected in the guitar community, is huge for us. When they contacted us, we jumped at the opportunity. I'm so excited about the TonePrints Andy did for us and cannot wait to get them out there to players everywhere."
Andy made TonePrints for all five pedals in the series. He started with Flashback Delay, which he made into a true recreation of the classic Maestro EchoPlex EP-3. Andy is a long time EchoPlex user and this is an extremely faithful reproduction of that classic sound.
Vortex Flanger brought out the Led Zeppelin fan in Andy, and he went for a faithful tape flange tone, something the Vortex Flanger excels at. For his TonePrint he used three flangers to get a truly mesmerizing flanger sound, that will appeal to any fan of classic rock.
Hall of Fame Reverb made Andy want to do a BIG sound, and when he discovered the TonePrint editor was more than up for that task, he immediately decided on a huge Cathedral TonePrint. This sound accommodates shoe-gazers and ambient sounds perfectly. This TonePrint is highly tweakable and ranges from dark and warm to bright with high presence.
When we started working on the Shaker Vibrato TonePrint, Andy immediately had one question: "Can we create a chorus TonePrint, as that would an already amazing pedal even more versatile". After only a bit of tweaking, Andy was more than satisfied with the result, a great sounding, lush classic TC Electronic chorus.
For Corona Chorus, Andy wanted a dual chorus, something that found a middle ground between a standard warbly chorus and a more diffuse tri-chorus. The dual chorus will take you anywhere from classic 80's chorus sounds to more swirly leslie-type tones and anywhere in between.
All of Andy's TonePrints, and all other artists on the TonePrint roster, are available at:tcelectronic.com/toneprints