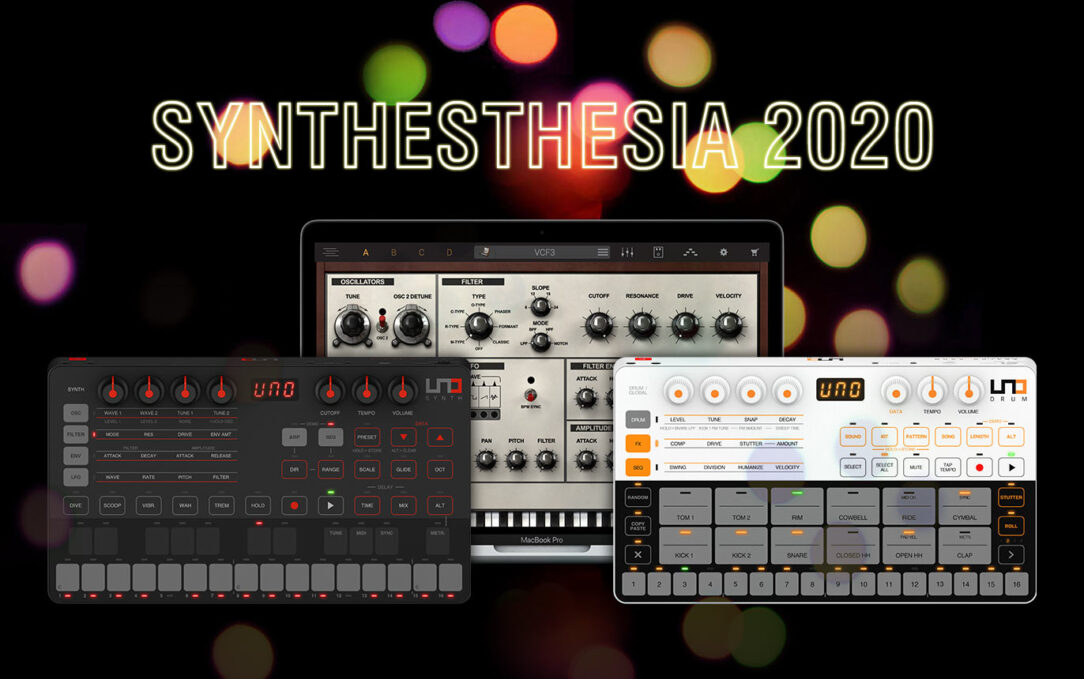 SYNTH EXPO'S SYNTHESTHESIA! LIVE STREAMS & EXCLUSIVE CONTENT ALL DAY OCTOBER 4
MikesGig is supported by its audience. When you purchase through links on our site, we may earn an affiliate commission. Read the full disclosure HERE.
This Sunday, October 4th, IK Multimedia is participating in an online synthesizer expo hosted by the organizers of the Brooklyn, LA and Portland Synth Expo, Synthesthesia 2020.  This event is free to attend with an RSVP here.
Head over to our IK Multimedia virtual booth to learn more about our Mini synths, UNO Synth and UNO Drum as well as Syntronik in the Softsynths category.  See below for a chance to win UNO Synth and UNO Drum and get your free Syntronik Pro-V!
Here, we will be hosting our IK official live content and Q&A's with our representatives throughout the day. Tune in below!
We will be streaming exclusive live content with our product developers all day.
Join us at the following times:
2:00PM – 2:15PM – IK Multimedia welcomes you to SYNTHESTHESIA 2020
2:15PM – 2:30PM – UNO Synth demo with product designer Enrico Dell'Aversana
2:40PM – 3:00PM – UNO Synth Q & A with Dell'Aversana
3:15PM – 3:30PM – UNO Drum demo with product designer Enrico Dell'Aversana
3:40PM – 4:00PM – UNO Drum Q & A with Enrico Dell'Aversana
4:15PM – 4:30PM – Syntronik Product Demo with product designer Erik Norlander
4:40PM – 5:00PM – Syntronik Q & A with Erik Norlander
5:30PM – 5:45PM – Intermission Q & A with product specialist Matt Dorsey
5:45PM – 6:00PM – UNO Synth demo with product designer Enrico Dell'Aversana (Replay)
6:00PM – 6:15PM – UNO Drum demo with product designer Enrico Dell'Aversana (Replay)
6:15PM – 6:30PM– Syntronik Product Demo with product designer Erik Norlander (Replay)
6:30PM – 7:00PM – End of show give-away with Matt Dorsey (Tune in for a chance to win UNO Synth and UNO Drum!)
After Hours (Replays):
7:00PM – 7:15PM – UNO Synth demo with product designer Enrico Dell'Aversana (Replay)
7:15PM – 7:30PM – UNO Drum demo with product designer Enrico Dell'Aversana (Replay)
7:30PM – 7:45PM – Syntronik Product Demo with product designer Erik Norlander  (Replay)
7:45PM – 8:00PM – UNO Synth demo with product designer Enrico Dell'Aversana (Replay)
8:00PM – 8:15PM – UNO Drum demo with product designer Enrico Dell'Aversana (Replay)
8:15PM – 8:30PM – Syntronik Product Demo with product designer Erik Norlander  (Replay)