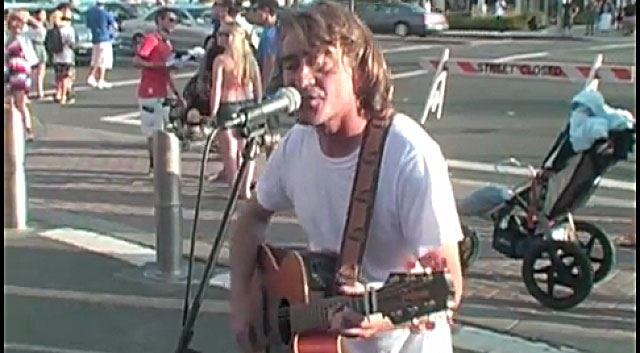 Steve Robinson at Huntington Beach Surf City Nights
Guitar. Songs. Steve Robinson free concert at Huntington Beach performance was amazing.
MikesGig is supported by its audience. When you purchase through links on our site, we may earn an affiliate commission. Read the full disclosure HERE.
For the past 6 years Steve Robinson has been flying in from London to perform for delighted locals and tourists.
He packs his guitar and his family and heads for Huntington Beach every summer. Performing rock and pop favorites from the 60s to the present day along with his own songs, Steve accompanies his seasoned vocals with the steady strumming of his acoustic/electric Takamine guitar. On this balmy summer night the street was crowded and steeped in pre-US Open excitement. Steve drew a large group of listeners to his position at the intersection of Main Street and PCH. Based on the size of his tip jar, people were really digging his act.
About Surf City Nights
Started several years ago as a pilot project by the Huntington Beach Downtown Business Improvement District (henceforth know as the HBDBID), the weekly Tuesday night street fair has turned into an international event. Surf City Nights happens every Tuesday from 5-9 PM. It includes street performers, a farmers market and booths featuring local restaurants and products vendors. This is a great free activity in Huntington Beach and a chance to hear up and coming local and international performers.