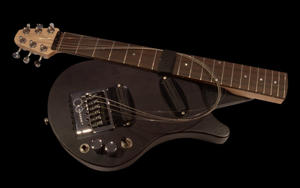 Snap Dragon Introduces Innovative 'Tripper' Professional Folding Electric Guitar
Engineer Gerry Dale and producer Robin Millar reinvent the pro travel guitar; featuring two dual-rail humbuckers, solid maple neck & patented Evertune bridge, it unfolds in tune!
MikesGig is supported by its audience. When you purchase through links on our site, we may earn an affiliate commission. Read the full disclosure HERE.
Engineer Gerry Dale and producer Robin Millar reinvent the pro travel guitar; featuring two dual-rail humbuckers, solid maple neck & patented Evertune bridge, it unfolds in tune!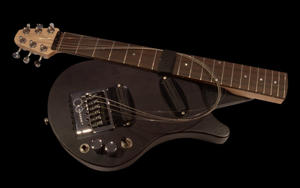 The NAMM Show • Booth #C4227 (January 24-27, 2013)—So-called "travel guitars" have been around for a while. Les Paul even designed one! Their small scale, complicated dismantling and assembling, lousy sound, poor playability and toy looks have always made the travel guitar more of a novelty or a hotel room diversion than a proper professional instrument. Not only that, tuning up the guitar once it was unfolded was a real drag.
Now engineer Gerry Dale and superstar record producer Robin Millar have done for the pro electric guitar what Dr. Dre and Jimmy Iovine have done for headphones. Two years, seven different woods, six necks, eight pickup configurations and 11 prototypes later, they've created a guitar worthy enough for a top professional to rely on and enjoy on the road.
Tripper is a beautifully crafted, professional electric self-tuning folding guitar. Taking only a few seconds to fold away or unfold, Tripper will pass through any airport cabin bag measure so you can take it on the plane with you with no hassle or bargaining with the crew!
Featuring two quality dual-rail humbuckers, a bespoke beautiful solid maple neck and with the patented Evertune bridge, this great instrument has the unique feature of being in tune as soon as it's unfolded! More than that, this fully pro-spec instrument will stay in tune for a two-hour set—or even longer! No motors, no batteries, just precision tension engineering. You only tune this guitar once… when you change the strings!
The Tripper will redefine the travelling guitarist's first choice instrument. For the price of an off-the-shelf Fender American Strat, you get a world-class guitar with none of the travel hassle. MSRP (standard model) $1,100 US. Snap Dragon can set up your guitar for your preferred string gauge and we'll even fit your favourite pickups and finish the body in your favourite colour if you ask nicely. Available worldwide from www.playawayguitars.com. Watch our intro video here: www.youtube.com/watch?v=EcgZFyWI_qY
About Snap Dragon Guitars
When Gerry Dale, a keen guitarist for more than forty years suddenly found himself having to travel frequently by air, he was dismayed to learn how difficult it was to carry a conventional instrument onboard an aircraft. A quick search of the web revealed that a number of companies were making folding or collapsible guitars, but almost all of them required partial dismantlement to fit into small spaces, or featured hinging necks, which put unnecessary stress on the instrument's strings. So Gerry set out to find a new way to condense the dimensions of a guitar, without sacrificing any of the qualities or attributes a keen musician would want from their instrument. An instrument that could be SWITCHED from travel to playing position in a moment with ease, and the Snap Dragon was born. There's no fussy assembly or hinge to cause potential locking problems between the neck and the base of the guitar. Easy to use and fun to play, Snap Dragon guitars are a must have item for musicians on the move and one of the most innovative and desirable gadgets to come on the market since the MP3 player. Go on tour with Snap Dragon www.snap-dragon-guitars.co.uk/.