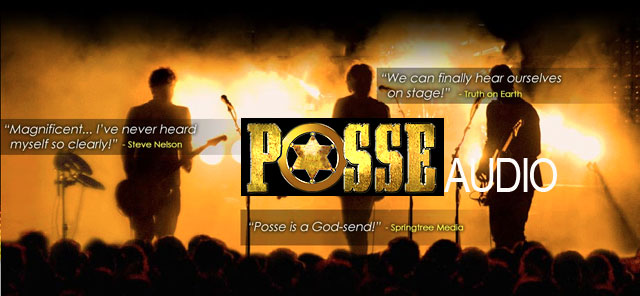 POSSE Personal Monitor System at NAMM 2011
MikesGig is supported by its audience. When you purchase through links on our site, we may earn an affiliate commission. Read the full disclosure HERE.
Posse Audio is Your Personal on Stage Monitor Mix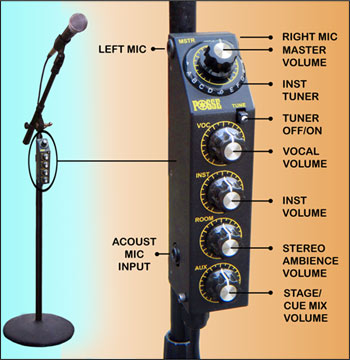 This is the perfect solution for solo performers who have little to no time for setup at the gig. I tried the unit at NAMM 2011 and it sounds fantastic. The unit is so complete in features – they left nothing out – it includes everything you need to control how you hear yourself on stage and more. My favorite feature is the built in ambient room mic that allows you to dial in just the right amount of "room sound". Set up is quick and easy and the system uses standard non-proprietary cables and connections for easy replacement and customization if you need longer – or shorter – cable runs.
The complete system retails for $499 and includes everything you need to hook it and carry it to the gig. This may seam expensive, but when you see the quality, features and how it can improve your stage performance – its a good value. I'd like to see them come out with a scaled down version – maybe with no tuner – to make cost of entry a little easier.

Built for Musicians by Musicians
Watch the video as singer/songwriter Randy Sharp, "Why Does It Have to Be Wrong or Right" and "A Tender Lie" recorded by Restless Heart, explains how the system works.
Ideal for stage, studio, or personal practice
Control everything you hear onstage
Consistent sound, every venue, every time
No more feedback from floor monitors
Quick and easy setup in minutes
Hear the audience with built-in stereo mics
Acoustic instrument condensor microphone
Line-of-sight chromatic tuner
Control stage mix or studio feed
Stereo instrument inputs
Convenient beltbox
Record your performances
Peak limiter protects your hearing
Built-in direct box
Phantom power for condensor mics
Play your own break music with MP3 player
AC adapter or battery
Designed by musicians for musicians
Made in the USA