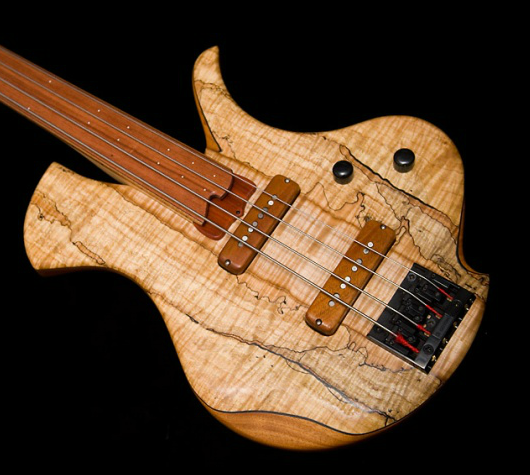 Pelosi Basses at NAMM 2009 – Handmade Perfection
MikesGig is supported by its audience. When you purchase through links on our site, we may earn an affiliate commission. Read the full disclosure HERE.
Built in Brooklyn These Boutique Basses Won't Brake the Bank
I'm a bass player and when I go to NAMM I try all that I can. This bass is one that you don't want to stop playing. The feel, the sound, the vibe – it has it all. These beauties are hand made in Brooklyn and are among my top picks out of all the basses at the show this year. These works of art are finely crafted with premium materials and are very reasonably priced. Check out the Bass Player Magazine January, 2009 review.
Scale Lengths
Pelosi Basses offers four different scale lengths for 4-string basses and two scale lengths for 5 and 6 string models. 4-string basses are available in 30, 33.5, 34.5 and 35 inch scale lengths. 5 and 6 string basses are available in either 34.5 or 35 inch scale length.
For jazz players Pelosi strongly recommends the longer scale lengths as they have a vibrant sound much akin to the low octaves of a piano. The 35 inch scale basses deliver quick response and articulation which is un-parralled among major brands of basses. For people who find the 35 inch scale length a bit of a "stretch" Pelosi offers the 34.5 inch scale length.
To my tastes the 34.5 inch scale length offers a strong low B string in 5-string models while maintaining ease of playability in the first two positions of the bass.
Wood Choices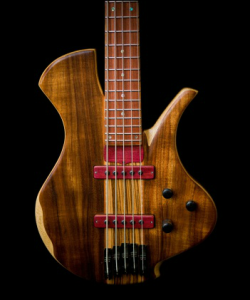 Wenge, Koa, Cocobolo, Padauk, Claro Walnut, Black Walnut, Red Alder, Korina, Maple, Honduran Mahogany, Sapele, Ebony. Anthony chooses all of these woods as his color pallete.
Weight and density are the key factors in determining how a particular wood will resonate within a single design. By adjusting thickness and wood type, Anthony is able to produce electric basses which will feel good in your hands. "There are woods I'd only consider for constructing a guitar and not a bass, and often it works the other way around. For example; the maple I use for all my instruments is straight grained and hard. It's used on the quarter for basses and mostly flat sawn for guitars. I buy large slabs of maple, as this guarantees me consistant color and grain structure. Western Red Alder really lends itslef to an even, punchy feel on basses. In fact, that's what I prefer as a wing wood on my basses."
pelosibasses.com