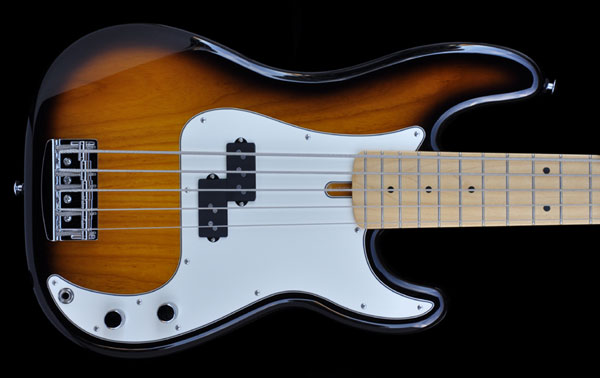 Nordy vP5 – Nordstrand Bass Guitars
MikesGig is supported by its audience. When you purchase through links on our site, we may earn an affiliate commission. Read the full disclosure HERE.
This guy is already a legend! I had the pleasure of meeting with Carey Nordstrand at NAMM 2010 and playing one of his newest creations, the 5-string vP5. I had read for the past several years on Talkbass and others about various incarnations of Nordstrand pickups and electronics. From the rave reviews and dearth of users I just assumed that this was a long-standing European brand making inroads in the US market. In fact, he's practically in my backyard in Yucaipa, CA – I'm in HB – and he started his brand in 2003!
Enter the vP5. If you go to Carey's gallery you can follow his progression from finely crafted unique custom instruments to the refined traditionally inspired basses he makes today. The vP5 follows a familiar Leo form factor with these features; one-piece maple neck with skunk stripe and two-way truss rod, solid ash body with traditional 2-tone burst, NP5 pickup with passive volume and tone controls and Hipshot hardware. The instrument is beautifully finished and surprisingly light.
I was immediately impressed at the effortless string fretting and comfort of the neck in all positions. I asked Carey how he does it. "We shape the necks with a compound radius that resembles a cone as opposed to a cylinder to aid playability. We also put the neck under stress during the shaping process to help refine the radius prior to fret installation to get the lowest possible action without buzzing." The sound is very punchy, clear and "alive." I see now why he gets all the praise for his pickups, and together with his bass, it's a winning combination.