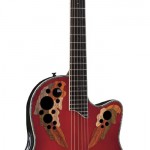 New Celebrity Deluxe Features Groundbreaking Idea Preamp
MikesGig is supported by its audience. When you purchase through links on our site, we may earn an affiliate commission. Read the full disclosure HERE.
Ovation's innovative iDea preamp makes its debut in the Celebrity Deluxe 2010 product offering! Along with the iDea preamp, model CC44Si features a solid spruce top, lightweight bracing, Ovation's signature exotic hardwood epaulets and Slimline pickup including six individual sensors – one for each string. Retail: $929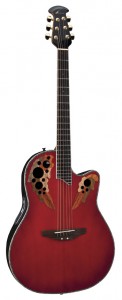 Ovation's iDea preamp is the first and only preamp of its kind, featuring a built-in MP3 recorder/player. A digital recorder is part of the on-board Ovation preamp. A simple and direct recording control makes it easy to record entire songs or fragments, even vocals and commentary. The iDea is also a learning tool, with audio lessons pre-installed in the memory. Additional lessons from iDea educational partner, Workshop Live, are available via download from www.OvationiDea.com
Downloading files from a computer or the internet is easy via USB. Files can be moved, renamed, deleted and rearranged right on the computer desktop. Mixes from recording software, rhythm tracks, even songs the player wants to learn can be downloaded and played either through the guitar output or headphones. Several "Jam Tracks" are also pre-installed in the preamp, and others are available online.