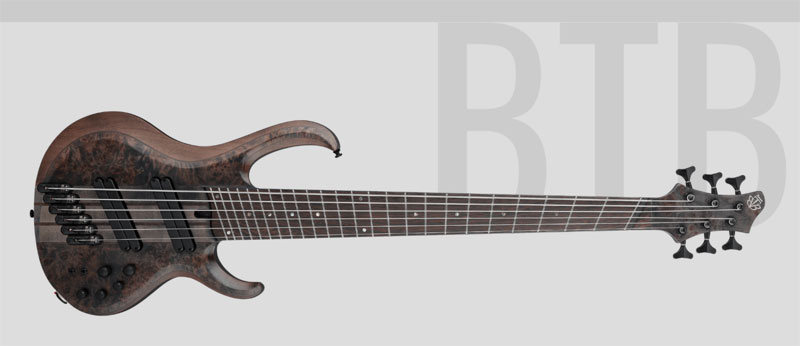 NAMM 2022 News – Ibanez Introduces 3 New BTB Multi-Scale Bass Guitars
MikesGig is supported by its audience. When you purchase through links on our site, we may earn an affiliate commission. Read the full disclosure HERE.
Included are a 6-string, 5-string and 4-string multi-scale bass in the popular and affordable BTB Workshop series
For more than 40 years, Ibanez has pioneered new frontiers in bass development, pushing the boundaries of conventional designs to bass players of all styles, affording new avenues of expression and creativity. This spirit of exploration has led to the creation of some of the most successful and popular production basses of all time. Following this same drive to bring new and relevant ideas to the musical forefront is what serves as the basis for this ongoing project, dubbed the Ibanez Bass Workshop. The impetus behind each one of these unique instruments comes from a desire by the Ibanez bass development team to satisfy the particular needs of many players. These inventions may not be for everyone, but for those who yearn to explore new sonic vistas through the medium of bass: The Ibanez Bass Workshop project may give you just what you're looking for.

BTB806MS 6-string
neck type – BTB6 for Multi Scale, 5pc Maple/Walnut w/Graphite reinforcement rods, Neck-through
top/back/body – Poplar Burl top, Okoume/Ash wing body
fretboard – Bound Panga Panga fretboard, Abalone dot inlay
fret – Medium Stainless Steel frets
number of frets – 24 (+ zero fret)
bridge – MR5S bridge
string space – 17mm
neck pickup – T1 neck pickup, Passive
bridge pickup – T1 bridge pickup, Passive
equaliser – Ibanez Custom Electronics 3-band EQ w/ EQ bypass switch (passive tone control on treble pot) & 3-way Mid frequency switch
factory tuning – 1C,2G,3D,4A,5E,6B
strings – D'Addario® NYXL30130 for 37″
string gauge – .030/.045/.055/.080/.100/.130
hardware color – Black
Scale : 939.8mm/37″ – 876.3mm/34.5″
msrp: $1499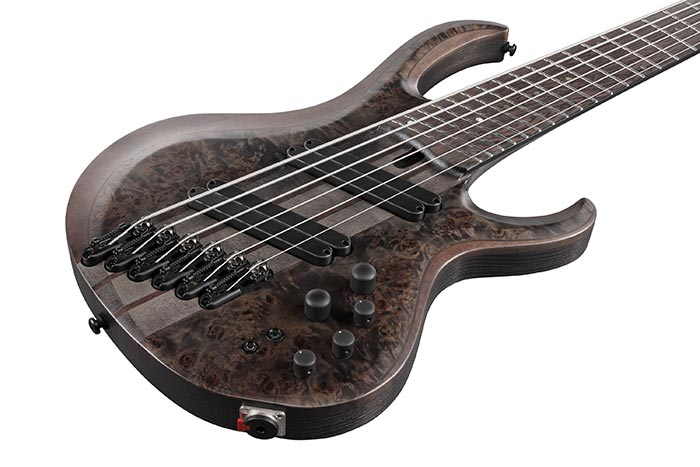 Mikes's Notes: I had a chance to play this bass and it is a wonderful thing. Super punchy and so easy to play even for my first try on a 6-string multi-scale. The attention to detail is extreme. And at only $1499 this definitely goes on my short list for a new 6-string.
Where to buy: