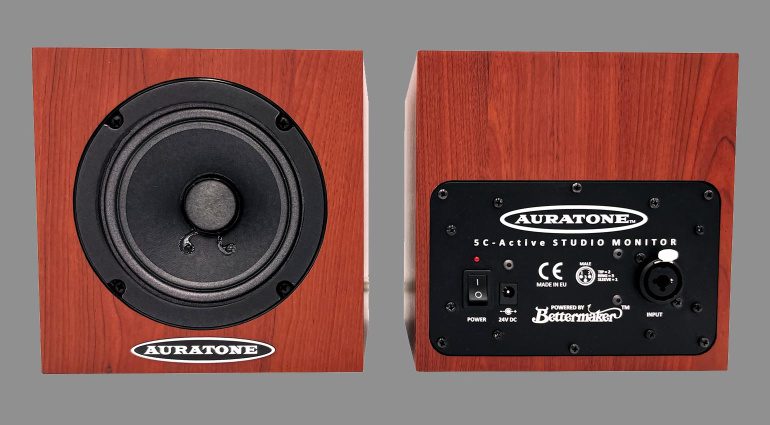 NAMM 2022 News – Auratone Introduces An Active Version of Their Iconic Super Sound Cube
MikesGig is supported by its audience. When you purchase through links on our site, we may earn an affiliate commission. Read the full disclosure HERE.
The Auratone 5C Active Super Sound Cube 4.5 inch Reference Monitor is the companies first ever active monitor speaker
For decades, Auratone's speakers have offered studios around the world a way to hear their music through a brutally honest lens, devoid of any sleek, sound-enhancing sheen. Auratone's 5C Active Super Sound Cube with Integrated Power Amplifier delivers the same honest sound of the original 5C, but with a high-end 50-watt mono amplifier designed in collaboration with Bettermaker. This monitor pair boasts 4.5-inch, full-range drivers that deliver a flat, true-to-life response. As much as we love our hi-fi rigs here at Sweetwater, the reality is that most listeners will hear your music through phones, car speakers, and other less-than-optimal setups. Auratone's 5C Active Super Sound Cubes are a powerful tool to ensure your tracks sound great, no matter the playback medium!

50-watt integrated power amp
Auratone 5C Active Super Sound Cubes sport a custom integrated power amp, designed in conjunction with legendary high-end audio equipment manufacturer Bettermaker to get the best out of your Auratones. This amp captures everything that made the original outboard A2-30 such a perfect pairing with Auratone's 5Cs, but with the all-in-one convenience of an active speaker design. Of course, 50 watts are more than enough to drive the 5C Active Super Cube's 4.5-inch speakers, giving you a blunt, honest reproduction of your sound.
Auratone 5C Active Super Sound Cube with Integrated Power Amplifier Features:
2 speakers with 4.5-inch, full-range drivers that deliver an exceedingly honest "real-world" sound
Integrated 50W, 8-ohm amplifier for an all-in-one setup right out of the box
Perfectly captures the sound of the original Auratone 5C
Wide 80–15,000Hz full-range frequency response
Overheating, short, and overcurrent protection to protect your speakers from accidental damage
Proudly made in the USA