NAMM 2011: News From The Floor
MikesGig is supported by its audience. When you purchase through links on our site, we may earn an affiliate commission. Read the full disclosure HERE.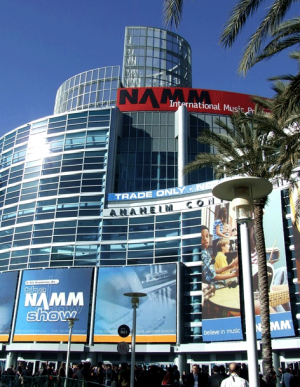 Winter NAMM 2011, the most important musical instrument trade show, runs from January 13-16, 2011 in beautiful Anaheim, California. This trade-only event is the show place where all major and upstart manufacturers of music making and reproducing products join with retailers and musicians to introduce their latest products. We will be there shooting product demos and interviewing product developers and some of the greatest luthiers on the planet. Come back often to read the latest news from NAMM.
Also, be sure to follow mikesgig on Twitter and Facebook where we'll be posting live updates, pictures and videos from the moment that the doors open on Wednesday, January 13, 2011.
The following links lead to official press releases for the NAMM show. If there is something specific that you wish us to cover at the show, leave a comment below.
NAMM U Announces its "Best in Show"
AMPS AND SPEAKERS:
Celestion Vintage 30
Marshall Slash Signature, Limited Edition AFD100 Valve Head
Orange Introduces 2 NEW Terror bass amps
POSSE Audio Personal Monitor System
TC Electronic NEW bass amp
APPS:
Allen & Heath Launches NEW
Apple iPad
IK Multimedia announces irig mic for iPad
Pro Co's Momentum "mtweak" App upgraded for Apple iPad
TC-Helicon VoiceJam™
ARTISTS:
Stephen Bennett Plays Holloway Harp Guitars
Jackson Browne at Gibson
Derick Sebastian Ukulele Virtuoso at Fusion Products
CASES AND GIGBAGS:
SKB's Watertight Bass Case – It Floats!
EFFECTS PEDALS:
TC Electronic overdrive and distortion guitar pedals
GUITARS and BASSES:
Aquilina Bass Guitars from France
Bigsby Vibratos
Brown's Guitar Factory to Unveil John Payne Signature Model
Carvin – Frank Gambale FG1 semi-hollow carved top guitar
Dean Guitars unveiling John Entwistle bass line
Dean Guitars Bret Michaels Signature Series Unveiled January 13
Fender® introduces the Roger Waters Precision Bass®
Fender Introduces 60th Anniversary Telecaster® and Precision Bass®
Fret-King – Matt Smith returns for 2011 with JHS guitars
Gibson "Jackson Browne" Signature acoustic
Hoyer Eagle
Holloway Harp Guitars
Hoyer Eagle
Jackson Partners with Megadeth's Ellefson For New Signature Bass
Madarozzo Advanced Guitar Architecture
Noguera YC Bass
Nordstrand 6-string is not a bass
RainSong introduces the Studio Series
Ritter Roya
Wyn Guitars 7 string bass
KEYBOARDS:
Kurzweil ships the new PC3K8 keyboard
Nord Ships The New Nord Piano 88
MICROPHONES:
beyerdynamic launches new wireless flagship Opus 910
IK Multimedia announces iRig Mic
RECORDING:
Allen & Heath Launches NEW Mixer
Fostex Announces Upgraded PM0.5n Near-field
Fostex Announces Unique TH Series Headphones
iConnectivity Debuts iConnectMIDI Interface
MOTU Debuts 828Mk3 Hybrid Firewire/Usb2 Audio Interface
STRINGS:
D'Addario Introduces Five New Electric And Acoustic Sets