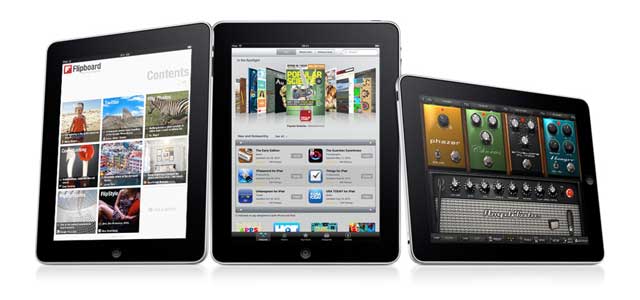 NAMM 2011 – MikesGig Pick For Best Of Show – The Apple iPad
MikesGig is supported by its audience. When you purchase through links on our site, we may earn an affiliate commission. Read the full disclosure HERE.
That's right – the Apple ipad. They didn't exhibit at the show, yet they were everywhere. Not quite a year ago, January 27, 2010, the iPad was introduced. Apple has sold nearly 15,000,000 units to date worldwide–including one to my 11 year old nephew.
There were apps for multitrack recording, apps for guitar effects, apps for learning how to play any instrument imaginable, apps for DJs, apps for controlling lighting systems, apps for…well you get the idea. This little hardware utility has created a bridge, via the app, between us and anything that we want to control. We can now envision "app bands" showing up for gigs with iPads, iPhones and iPods to interface there instruments into the house system.
I stopped at the Pro Co Sound booth to see what's new. They now have an app, mTweak to complement their Momentum mo8me personal monitor mixer. With the mTweak app, your iPhone or iPad becomes the handheld wireless interface to "tweak" your personal monitor mix. Churches are using iPads to mix FOH systems from the pews with no wires. Allen & Heath has released an iPad application for its iLive digital mixing system. iLive MixPad connects to an iLive MixRack turning your iPad into a wireless mixer controller—and the list goes on.
One of the most exciting apps that was demoed on the NAMM 2011 Media Preview Day is the Jammit. The iPad app allows you to jam along with the actual master tracks of hits from your favorite artist. You can solo a guitar, drum or bass track, and slow down the speed (while maintaining pitch) as you learn the riffs.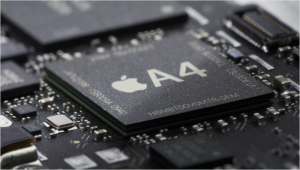 As the iPad increases in power the possibilities for apps will only be limited by developers imagination. According to a post on AppleInsider, Apple is readying next generation iPads and iPhones using a new version of the A4 processor. In fact, the iPad 2 and iPhone 5, both due in the first half of 2011, will pack a new A4 chip that supports dual, faster graphics cores capable of supporting a Retina Display on the iPad and potentially bringing 1080p HD support to iOS devices, including Apple TV. The AppleInsider report shows that the new A4 chip will implement ultrafast, dual-core SGX543 graphics cores.
The iPad is a phenomenon and, through its apps, is having as profound an affect on the music industry as the electric guitar, multi-track recording, synthesizers or midi.
And the beat goes on.