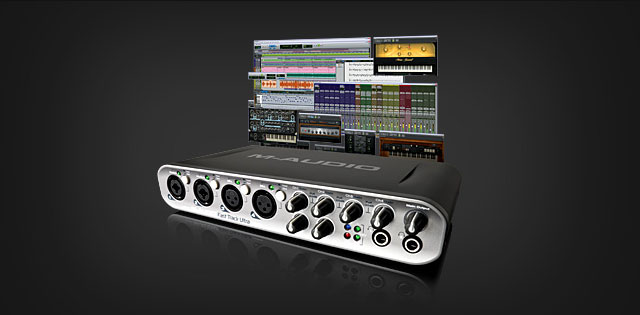 MusikMesse 2011 – Pro Tools MP 9 Software and Recording Systems
MikesGig is supported by its audience. When you purchase through links on our site, we may earn an affiliate commission. Read the full disclosure HERE.
Enjoy many of the same professional features as Pro Tools 9—and get exceptional value with three new bundles


Professional music creation has never been more accessible. Designed for use with select M-Audio recording interfaces, Pro Tools® MP 9—the latest version of Pro Tools M-Powered™ software—delivers many of the same professional features as Pro Tools 9. Buy the software alone for use with your favorite M-Audio interface, or choose one of three new hardware/software bundles to get a complete recording solution at an exceptional value.
Pro Tools MP 9 software delivers 48-track mono or stereo audio recording, editing, and mixing with up to 24-bit/96 kHz fidelity. You can shape sounds and add effects with over 70 included plug-ins, compose music with full MIDI and score notation tools, get great-sounding, phase-accurate mixes with Automatic Delay Compensation, and much more. Pro Tools MP also makes it easy to collaborate with other Pro Tools users in studios around the world.
More Options, More Flexibility

A wide variety of M-Audio hardware peripherals are compatible with Pro Tools MP software, giving you more options in where, when, and how you work. Whether you need just a little I/O or a lot—or a desktop, mobile, or hybrid system—you'll find the perfect solution with our PCI, USB/USB 2, and FireWire audio interfaces. To get the best of the hardware and software worlds at an exceptional value, check out one of our complete Pro Tools MP studio bundles.
Top Features

• session compatibility with all current Pro Tools systems > create anywhere, anytime

• hardware compatible with dozens of M-Audio interfaces > flexible options

• easy to learn and use > make better music, faster

• new Automatic Delay Compensation and MP3 export functionality > complete professional toolset

• advanced MIDI production tools and Score Editor > all-in-one solution

• Elastic Pitch and Elastic Time real-time manipulation features > change audio track tempo/timing or pitch independently on the fly

• includes 7 powerful virtual instruments and 70 plug-ins > fuel your creativity
USD 299.95 MSRP