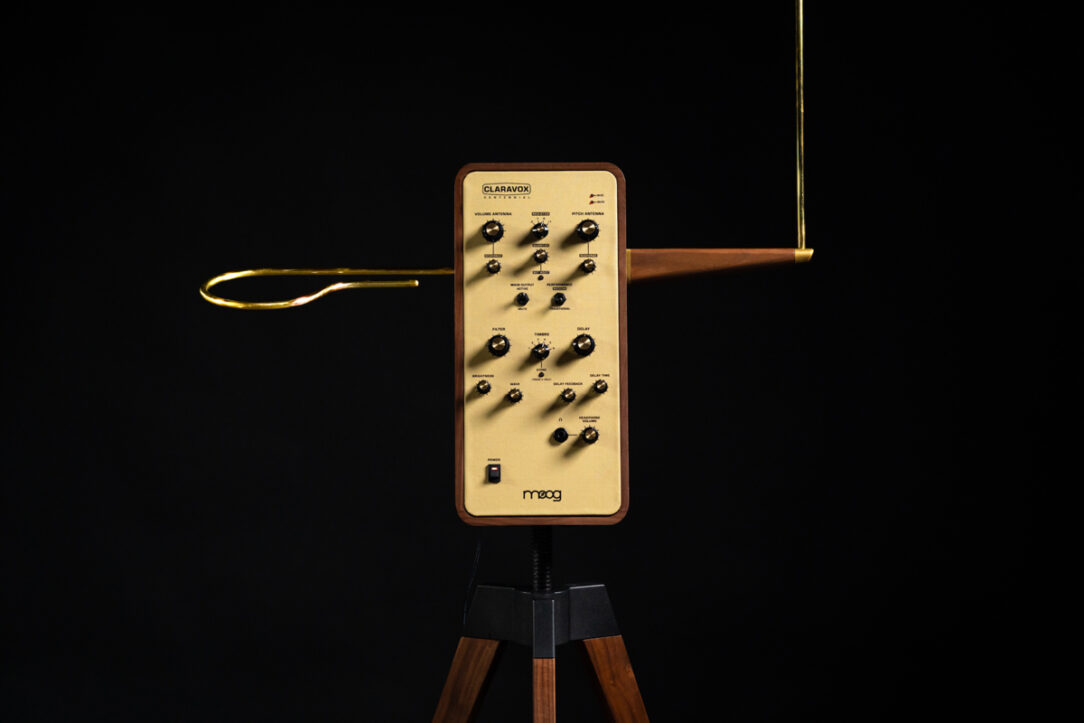 Moog Introduces Claravox Centennial Theremin
MikesGig is supported by its audience. When you purchase through links on our site, we may earn an affiliate commission. Read the full disclosure HERE.
One of the first known electronic musical instruments, the theremin has seen a remarkable century as the otherworldly sound adored in film and TV soundtracks, a staple of avant-garde music, and a sonic companion for groundbreaking moments in world history. To commemorate the instrument's 100th anniversary, pioneering electronic musical instrument company Moog Music introduces Claravox Centennial—a celebration of the theremin's past, present, and future.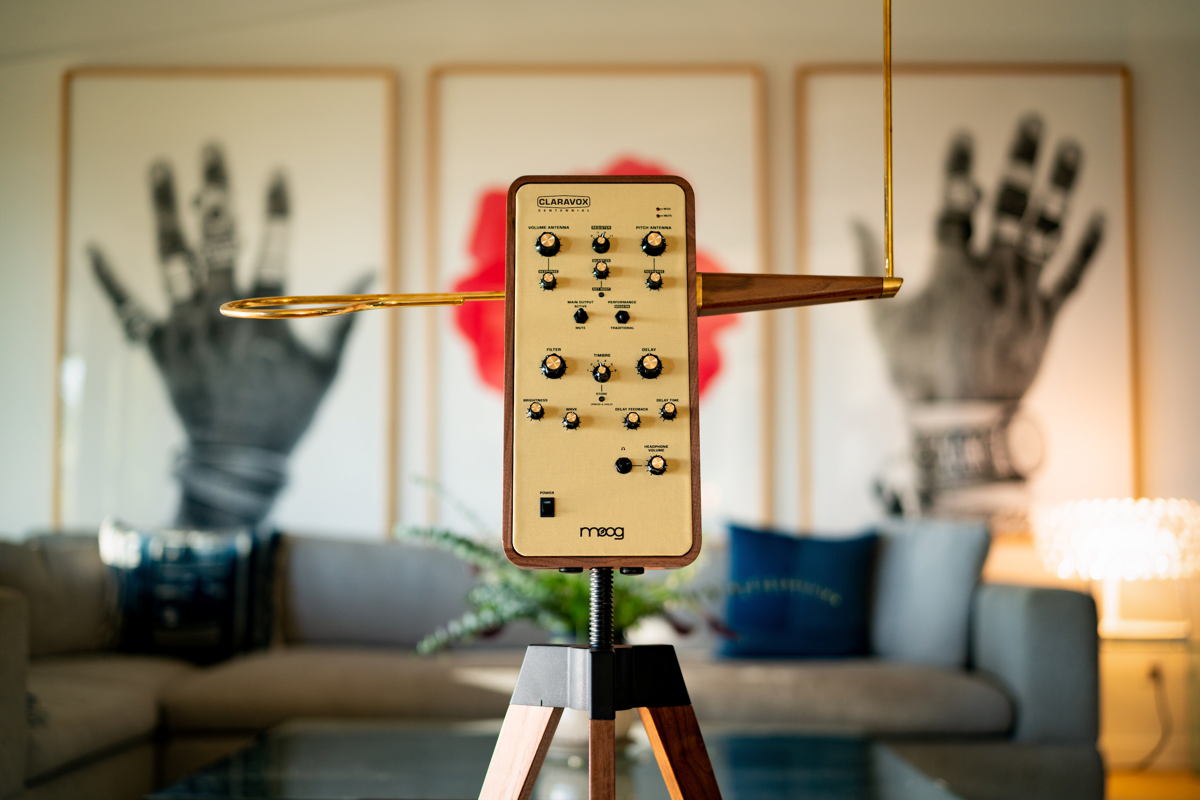 This year marks the 100-year anniversary of Leon Theremin's eponymous invention—an electronic musical instrument that changed the course of music history and ultimately led to Dr. Bob Moog's development of the Moog modular synthesizer. To commemorate this milestone, the world's leading producer of theremins unveils a new limited-edition instrument: Claravox Centennial.
Claravox Centennial is an elite performance theremin developed by Moog Music in celebration of the theremin's past, present, and future. This new offering draws on the company's decades of experience building electronic musical instruments that honor the beauty and simplicity of traditional circuit design while continuing to innovate for creative artists.
Named as a tribute to the original theremin virtuosa, Clara Rockmore, Claravox Centennial offers the highest quality control and sound available in a theremin for today's top performers and aspiring thereminists.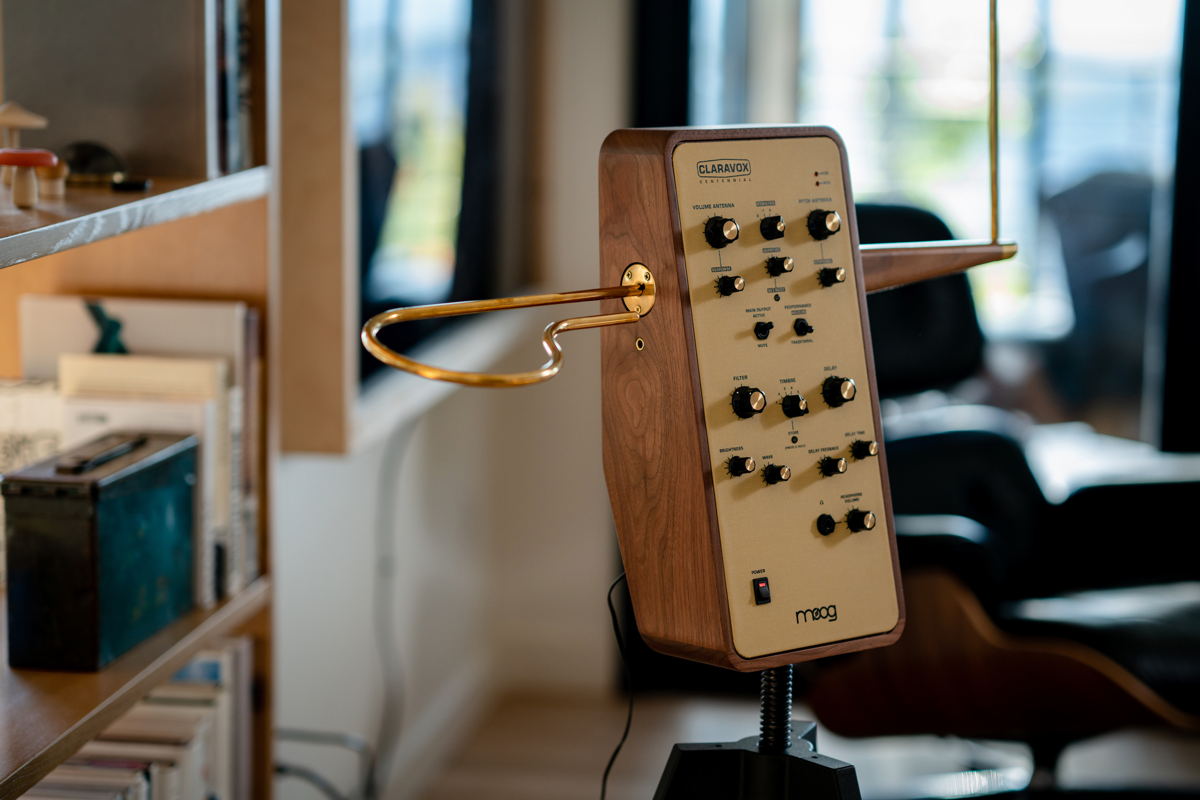 Claravox Centennial Aesthetic, Features & Functionality
Claravox Centennial is the most versatile Moog theremin in history. Switchable Traditional and Modern performance modes allow players to select between classic heterodyne analog oscillators and multimode DSP oscillators (sine, triangle, saw, wavetable) with assignable scales, quantization, and octave ranges. An analog wave-shaping circuit (derived from the legendary Etherwave Pro) imbues ethereal sonic character and empowers rich sound-sculpting possibilities, and the on-board analog BBD delay creates a wash of spiraling echoes and resounding warmth.
An instrument designed with exceptional playability to satisfy the most skillful thereminist, Claravox Centennial invites access to multiple levels of calibration and control settings to create a custom fit between this unique instrument and each unique player. Artists will appreciate the many thoughtful details included in the instrument's design, such as DIN MIDI, USB, and CV inputs and outputs for integrating with DAWs or controlling external sound sources; front-panel preset storage for instant recall of your favorite sounds and settings; pitch quantization and scale selections to help educate newer players; and a dedicated software editor to further expand the instrument's control and sonic capabilities.
Featuring brass antennas, cloth-bound control panels, and a beautiful fine-grain walnut hardwood cabinet, Claravox Centennial utilizes carefully curated materials to pay homage to the hand-crafted history of the theremin. Combine with the optional Claravox Centennial Theremin Stand for the ultimate statement piece.
Learn more about the instrument here.
Video: Grégoire Blanc Performs "Clair de Lune" with Claravox Centennial
Set among the baroque architecture and expansive gardens of Château de Vaux-le-Vicomte, French musician Grégoire Blanc channels theremin marvel Clara Rockmore in a stunning performance of Claude Debussey's "Clair de Lune" alongside pianist Orane Donnadieu. This tribute to the timeless classical duets of Rockmore and her sister, pianist Nadia Reisenberg, captures the beauty of the theremin's distinct tone and personality—characteristics that will continue to captivate audiences into the next century.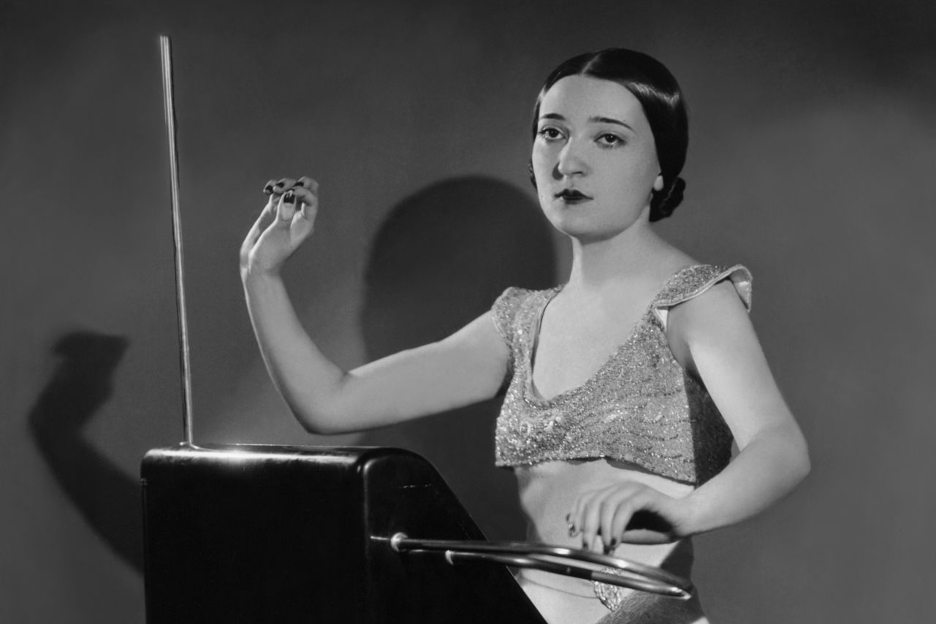 How the Theremin Sparked a Century of Electronic Music Innovation
The theremin was invented in a scientific laboratory in 1920 by Russian physicist Leon Theremin. Born Lev Sergeyevich Termen, Leon Theremin had an unique educational background, holding both a degree in physics and a degree in cello performance. It was this combination of skills that was the impetus for the invention that bears his name.
Leading up to his discovery, Theremin was working with a device that measured the density of gas and had modified it to not only give a visual readout of the value, but also an auditory representation. The device would emit a tone that would change pitch as the gas density changed, and Theremin noticed that his body's proximity to the device would interfere and affect the tone. Using the control learned as a cello player, he managed to play a simple tune with the device. His colleagues marveled at the invention, which led to his decision to develop it into a full-fledged instrument.
Not long after moving to the United States and patenting his invention in the late 1920s, Theremin met violin prodigy and fellow musician Clara Rockmore, who subsequently adopted the theremin as her primary instrument. Rockmore toured the US to wide acclaim throughout the 1930s, mystifying audiences with classical arrangements performed on what was then a new and highly unusual electronic instrument. With her classical training, she played a significant role in refining Leon Theremin's original design of the instrument. Today, Clara Rockmore is widely considered the greatest theremin player of all time.
The theremin captivated many in its early days, but it would take a curious NYC teenager with a knack for science and an ear for music to help propel the instrument into the mainstream.
In 1949, a teenager by the name of Bob Moog first learned of the theremin in an issue of Electronics World, and shortly after built his first model of the instrument from plans published in the magazine. By 1954, when he was just 19 years old, he and his father were building and selling theremins out of their home in Queens, NY.
Moog was enamored with the technology and became so dedicated to his craft that it caught the attention of Radio & Television News, which featured Moog's "The Theremin" article in the magazine's January 1954 issue. "The Theremin" provided readers with a new schematic for a theremin design that offered greater operational stability while remaining simple enough to build at home. Having recently founded R.A. Moog Company to market and sell his theremin kits, Moog took out an advertisement in the same issue, offering readers the opportunity to purchase all the parts needed to build the instrument described in his article.
"I became a designer of electronic musical instruments because of my fascination with the theremin," Moog wrote in his foreword to Albert Glinsky's Theremin: Ether Music and Espionage, the definitive biography of Leon Theremin. "Using the experience and insights I gained by designing theremins, I started designing and building synthesizers." The rest, as they say, is synth history.
Along with classical applications from professional musicians like Clara Rockmore, the theremin has made its mark on popular culture through film scores, television references, and more. The instrument was used to create otherworldly audio effects in mid-century films such as The Day the Earth Stood Still and Alfred Hitchcock's Spellbound, was used by Led Zeppelin, and provided the sounds that would accompany Neil Armstrong on the first trip to the Moon.