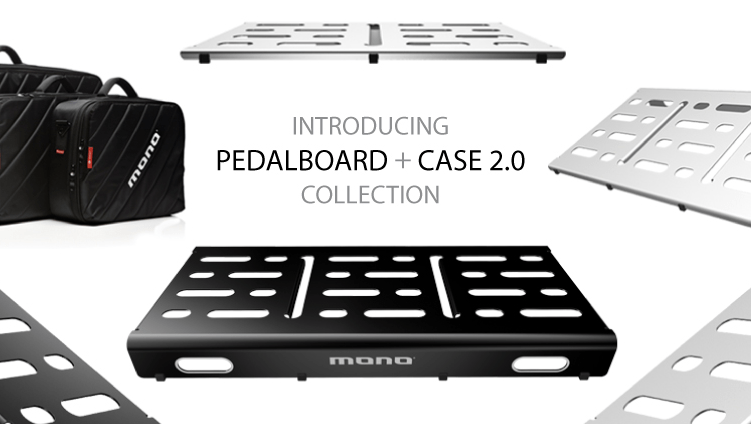 Mono Introduces a New Line of Pedalboards at NAMM 2017
MikesGig is supported by its audience. When you purchase through links on our site, we may earn an affiliate commission. Read the full disclosure HERE.
The new Mono M80 Series Pedalboards are sleek, sturdy and road-ready.
Cut and formed from a single piece of anodized aluminum these pedalboards come in four sizes and feature a flexible mounting system to accommodate different sizes and shapes of pedals. These will look great next to your Apple computer! Look for a full rundown review in the near future.

MEDIUM

SMALL

LITE+

LITE
OVERVIEW
Many more cabling options, including two spaces on the front
Twice the size of the Lite+, with room for a power supply and more cables
A Lite with enough space for that one extra pedal
A featherweight board with room for a compact power supply unit
DIMENSIONS


(W x L x H)

24 x 14.5 x 3.5 in
18 x 12.5 x 3.5 in
18 x 5.25 x 1.25 in
14 x 5.25 x 1.25 in
WEIGHT
3.97 lbs or 1.8 kg
2.75 lbs or 1.25 kg
1.23 lbs or 0.56 kg
1.01 lbs or 0.46 kg
INCLINATION
11 degrees
13 degrees
Flat
Flat
CASE


(sold separately)

Tour 2.0
Club 2.0
Tour 2.0 (Fits 2 LITE+)
Tick 2.0
BOARD CANDY
3M Low-Profile
Dual Lock
3M Low-Profile
Dual Lock
3M Low-Profile
Dual Lock
3M Low-Profile
Dual Lock