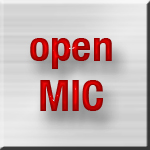 Open Mic Listing Berkely California
MikesGig is supported by its audience. When you purchase through links on our site, we may earn an affiliate commission. Read the full disclosure HERE.
Open Mic within 10 miles of Berkeley California
Free Live Music
Berkeley City Club, Berkeley (0 miles)
Open Mike at The Little Castle
First and third Wednesday of each month at 8pm
2315 Durant Ave.
Berkeley,
CA
510-684-4832
Hosted by Celia Ihne
_________________
Open Mic
Missouri Lounge
Every Wednesday at 7pm
Hosted by Paul Pot
2600 San Pablo Ave
Berkeley, CA
510-548-2080
_________________
Every Tuesday at 7:30pm
Hosted by Joan Pez & Girl George
3101 Shattuck Ave
Berkeley, CA
510-841-2082
_________________
Open Mike
Every Tuesday at 7:30pm
Hosted by Joan Pez & Girl George 3101 Shattuck Ave
Berkeley, CA
510-841-2082