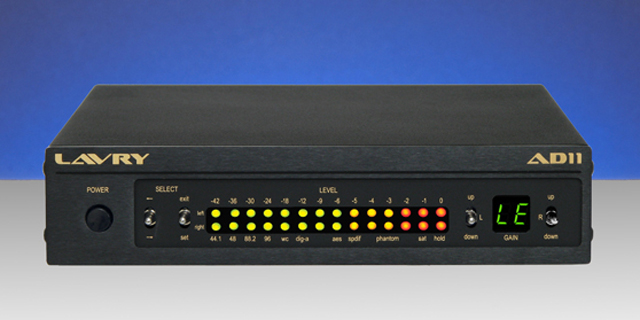 LavryBlack AD11 Analog to Digital Converter
MikesGig is supported by its audience. When you purchase through links on our site, we may earn an affiliate commission. Read the full disclosure HERE.
Brad Johnson, Technical Support at Lavry Engineering, Inc.,  gives us the rundown on the functions of this professional A to D converter at THE SHOW Newport 2011. The AD11 can capture up to 2 channels of audio with up to 24/96 resolution. This no frills high-end unit gives you everything you need to record from line level sources or from condenser or dynamic microphones via the integrated mic pre with 48V phantom power. Its size and features are perfect for location recordings that require the highest quality with portability and ease of use. Perfect for the project studio, it works with all major DAW software including Pro Tools 9, Reaper, SonarX1, WaveLab and more.
The AD11 stereo A to D converter offers USB connectivity, ideal for portable recording systems. Other features include built-in microphone preamplifiers with phantom power, large wide-range LED meters, and Lavry's exclusive Digital Tape Saturation Emulation ("Soft Saturation"). All settings are controllable from the AD11's front panel using a system similar to that of the companion D to A converter- the DA11.
Building on Lavry's long established reputation of making the most accurate AD converters available, the AD11's no-compromise design offers substantial value at an affordable price. With converter and microphone preamplifier performance that exceeds other manufacturer's stand-alone units, the AD11 combines musicality with functionality. The USB output is available in parallel with both XLR and RCA AES/SPDIF digital audio outputs, so more than one recording or monitoring device can be fed directly from the AD converter. The MicPre function and phantom power are selectable on each channel, as well as the Soft Saturation and +4/-10 level functions.
Like the previous LavryBlack model AD10, the AD11 has "XLR-TRS combo jacks" for the analog inputs. When a balanced or unbalanced ¼" plug is inserted, 12 dB's of fixed gain is automatically added to the front panel adjustable gain, to boost "-10" consumer level signals to "+4" professional level. Front panel line level input gain adjustment is available for each channel in 12 precise one dB steps. Additional gain in the range of 20 to 65 dB's is provided for balanced low-impedance sources (typically microphone).
This makes it possible to record the "direct" signal from a guitar effects unit or keyboard at the same time as a vocal mic, with no more than the AD11 and a laptop! In addition to "dual monaural" recording; extremely precise matching between channels makes the AD11 equally well suited to high quality stereo Mastering applications or "true" stereo recording. Whether it's home, on location, or professional studio- the AD11 is the right tool for the job!
LavryBlack AD11 features also include:
Recording at 44.1, 48, 88.2 or 96 kHz with 24 bit word length
Super-stable internal clock
External clocking via word clock or AES sync
BNC Word Clock output for synchronizing other gear to the AD11
Digital output format selectable between AES/EBU and IEC (SPDIF)
Peak hold selectable on large wide range LED meters
Soft Saturation for peak level control without time constants (allows signal to be compressed or limited without undesirable interaction due to different attack and release times)
Optional Rack Mount Kit (can be used to mount any combination of two LavryBlack units)