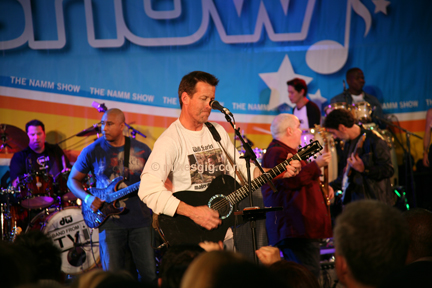 James Denton
MikesGig is supported by its audience. When you purchase through links on our site, we may earn an affiliate commission. Read the full disclosure HERE.
The Band From TV

 
Amazing Artists/Actors/Musicians/Singers.
This year marks the 110th anniversary of the legendary trade show that is the meeting place for musical instrument retailers to view and purchase the latest product innovations being shown by more than 1,400 manufacturers. Attending the NAMM show always makes for a busy week for everyone in the music industry and also big celebrities who are jamming all day long. After the trade show "The Band From TV" was playing in the Anaheim Convention Center lobby and I couldn't believe who was singing. James Denton was singing "The Devil Went Down To Georgia". What Talent and what a big heart this band has. You can see how much they love to play music even when the cameras stop rolling.
The "Band From TV" lineup includes a powerhouse of well-known and acclaimed actors including: James Denton (guitar), currently starring in the ABC hit "Desperate Housewives", Greg Grunberg (drums), a veteran of shows such as "Alias", "Felicity" and "Heroes" and will soon star in NBC's "Love Bites", Hugh Laurie (keyboards), currently starring in the FOX hit "House", Bob Guiney (vocals), who appeared on "The Bachelor" and is currently seen on ABC's "The View", and Bonnie Somerville (vocals), who starred in "Cashmere Mafia" and "The Ugly Truth."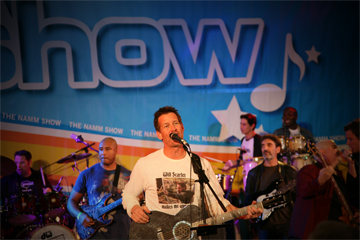 Each of the celebrities supports a chosen charity and the "Band From TV" is all about giving. The majority of money raised from both live performances and the sales of CD's and DVD's is donated to the following charities: The Conservation Fund, Children's Hospital L.A., The Epilepsy Foundation, The Art of Elysium, Save the Children, CAPP (Child Abuse Prevention Program) and the Fender Music Foundation (formerly the Guitar Center Music Foundation).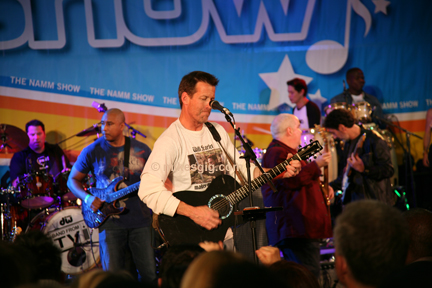 Band From TV consists of actors, musicians, and athletes who have come together for a common goal; to raise money through music to help those in need. Finding a cure, helping children around the world, protecting our environment, providing educational materials or musical instruments, aiding in natural disasters, or standing up against domestic violence, they will do everything in their power to not only get the message out, but raise much needed funds. Their goal is to make it possible for the charities to have the resources they need do the work they set out to do.
You can visit their website at thebandfromtv.org.