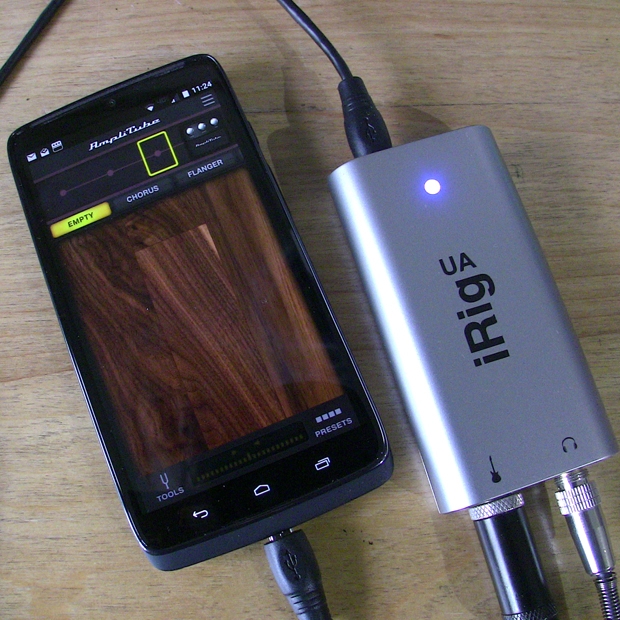 iRig UA Review – Finally Some Respect For Android Using Guitar and Bass Players
IK Multimedia iRig UA is the first universal near-zero latency guitar interface for Android devices. Android bass guitar interface.
MikesGig is supported by its audience. When you purchase through links on our site, we may earn an affiliate commission. Read the full disclosure HERE.
Now available from IK Multimedia, the iRig UA is the first 
universal near-zero latency

guitar interface for Android devices.

The Android guitar interface was introduced at Winter NAMM 2015 by IK Multimedia CEO, Enrico Iori. The event featured a stellar jam session with Adrian Crutchfield, Ryan Kilgore, Khristian Dentley, Donald Parker, Eric Parker, Glen Stewart, Clay Bogan and Devone Allison performing Stevie Wonder's Superstition.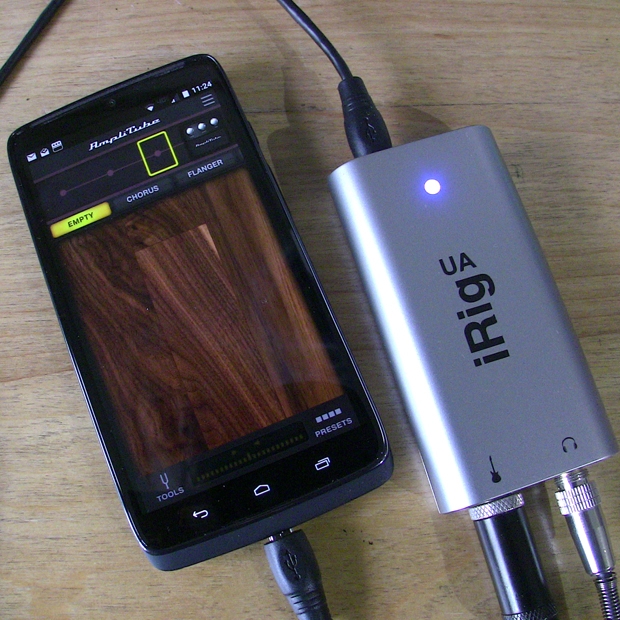 iRig UA comes with AmpliTube UA, a full-featured scaled down version of the mobile guitar and bass tone studio that's revolutionized the way musicians make music while on the go. The app is easy to navigate with a menu link in the upper right corner where you will access links to; Account, Store, Settings, Help (manual) and Info. The next section down on the app contains 4 segments, 3 for pedal board patches and 1 for amp selection. Select a pedal board and all available pedals in that board are activated and can be individually selected in the row below. Select a pedal and it pops up on the floor below. The pedal boards and amp selector can be rearranged by clicking and holding until a red outline appears and then slide to a new order position. Select a pedal board and hit "empty" to delete it. Under the floor at the very bottom of the app is a tools link where you can turn the tuner on and off and listen to your choice of 4 demo tracks.
Presets
At the bottom right there is a preset link to access a screen with 15 preset buttons. The iRig UA comes with 12 factory presets that sound very good. There are 3 blank presets for you to play with, and the factory presets can be erased if you need more customization.
Its For Bass Players Too!
I play guitar, but my main instrument is bass, and the iRig UA works great on bass guitar. All of the effects are usable for bass. My favorites are the chorus, flanger and octave. I tried this on a gig hooked into my Peavey ProBass 500 effects loop – sounded great! Now we need an Android version of the iRig BlueBoard.
Setup Notes:
Be sure that your Android device is up to date with the latest version of Android (Jelly Bean 4.2 or higher) and operating software before installing. Once you have everything plugged up and ready to go:
set the headphone volume to the lowest setting
access the settings tab by clicking the menu link in the upper right hand corner
click settings
set your input level by touching and dragging on the level slider (if your instrument has a hot output or an active preamp you may need to turn down the volume and bass eq to avoid distortion)
Keep tweaking until you get an acceptable level without distortion. I had the best results for a clean sound by using the "Clean" amp rather than the "Bass" amp. Once you get a solid input level and the tone that you want its time to play with the pedals. And this is important. When I first tried the unit I had the headphone level too high before I discovered the input settings. This will give bad results because you will here digital distortion when the headphone level is set too high. So if it doesn't sound right and you hear some digital chatter, go back and readjust your input level.
Recording
You can record your playing directly into the IK iRig Recorder on some Android devices – I use the Motorola Droid Turbo. Just set up the sound you want in UA then switch to iRig Recorder and hit the record button. This is great for getting ideas down quickly on the go.
edit: From IK Multimedia IT department- It works on some devices, but not others.  We tested on HTC One, Sony Xperia Z3, Google Nexus 7, Samsung Galaxy Note 4, Samsung Galaxy S6. iRig Recorder could record the processed audio only with the HTC One and Sony Xperia Z3. With the other devices, iRig Recorder did not even detect input signal.
Conclusion
The iRig UA with AmpliTube UA software is FUN! And did I mention that the software is FREE!
Pros
easy to get good sounds right out the box with presets
near-zero (undetectable to most ears) latency
good sound quality
expandable with optional purchased effects
good bang for the buck
made in Italy
Cons
noisy headphone amp at high levels (what can you expect for $99)
no footswitch option (coming soon?)
Features:
Works on any smartphone or tablet that supports Android 4.2 or higher and host mode/USB OTG
Near-zero latency digital FX processing
Digital audio recording on Android 5.0 and Samsung Professional Audio Devices
32-bit digital signal processor
24-bit converter with 44.1/48KHz sample rate
High-definition, low-noise preamp
Includes AmpliTube UA
Analog aux input for play-along and practice
Headphone output and volume control
Multicolor LED
Ultra-compact and lightweight design
Micro-USB port
Included gear models:
Stomp box – 9 models
Overdrive
Delay
Chorus
Wah
Flanger
Octave
Phazer
Noise Filter
Distortion*
Amp – 5 models
Clean
Lead
Crunch
Metal
Bass
Cab – 5 models
1×12
2×12
4x12A
4x12B
1×15
Mic – 2 models
Dynamic
Condenser
Testing Platform
Motorola Droid Turbo
Android 5.1
Aria AP bass
audio-technica ATH-M50 phones
Planet Waves cable