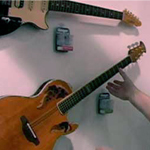 Woodies Hanger – A New Way To Hang Your Guitars
Sometimes the smallest items catch you by surprise. This is the first innovation in guitar hangers since the advent of the "2-pronger." Many hanger variations exist – but this one is unique. Allows you to quickly and securely display your narrow body guitars anywhere at any angle as a work of art, without those unsightly pronged hangers.   Manufactured in the UK from nearly indestructible clear polycarbonate, the hangers come in four varieties that accommodate different strap button locations and headstock configurations.
WIA MUSIC – www.wiamusic.com
Mikesgig.com pick.
Awarded "best in show" by an industry panel at the 2010 NAMM show in two categories.
-Mike
From WIA MUSIC:
"Hang your Guitar securely and almost invisibly. The Hanger supports the guitar by the strap buttons and has a quick-release top bracket so you can take your pride and joy down easily to play it, and clip it back quickly to display it.
Because Woodies Hanger hangs at ALL angles there are limitless possibilities for display. Your guitar is never 'out of sight out of mind', under the bed or in a cupboard. If you display it, then you'll play it.
We have 3 different models for your guitars and an easy to follow guide to pick the correct one!"