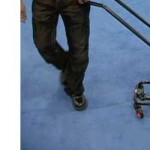 Gruv Gear – Watch Jay Demo His Solo Versatile Transport Cart
This adjustable cart moves a variety of heavy and awkward items with ease, and folds into an easy to stow package.
MikesGig is supported by its audience. When you purchase through links on our site, we may earn an affiliate commission. Read the full disclosure HERE.

Watch Jay demonstrate his new gear. If you are seeing a red "X" on a large empty box, please view this site with a different browser, like FireFox, on your PC.  Download Firefox and follow their instructions. Once you do this you will find that you will be able to view a lot of web sites without any more missing pictures. You can also view this entire site without any issues by using an Apple computer.
What Mike is saying . . .
Thanks for the demo, Jay Baldemor. I love your gear. I am a band member, have played solo and also a DJ. Having the right mate to carry the gear really helps. Great for Singers, Artists, Painters, Musicians, Bands, Bass players, Guitarists, Keyboardists, Drummers, Percussionists, Horn Players, etc.—even designers and mini trade show exhibitors.