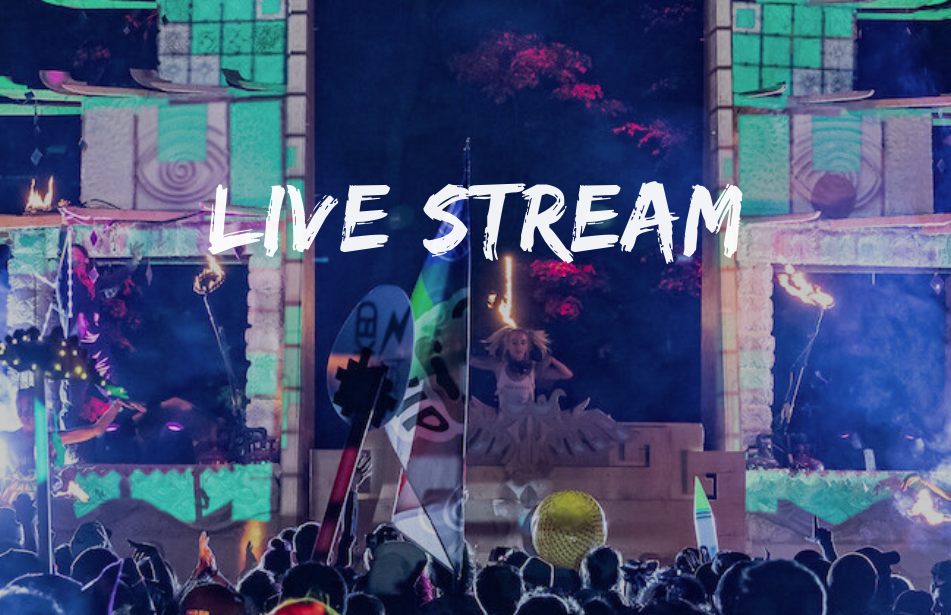 Free Live Streaming Digital Beach Party FRIDAY MAY 22 – SATURDAY MAY 23
MikesGig is supported by its audience. When you purchase through links on our site, we may earn an affiliate commission. Read the full disclosure HERE.
Elements Music & Arts Festival Presentes: "U Sexy Beach" A Digital Beach Party Lineup Announcement + More!
Grab your pineapples cuz you don't even have to leave the house! This Digital Beach Party is streaming live on Twitch, Facebook, and on Elements TV! Brought to you in living color with our exclusive stage partner, Dancing Astronaut.
Friday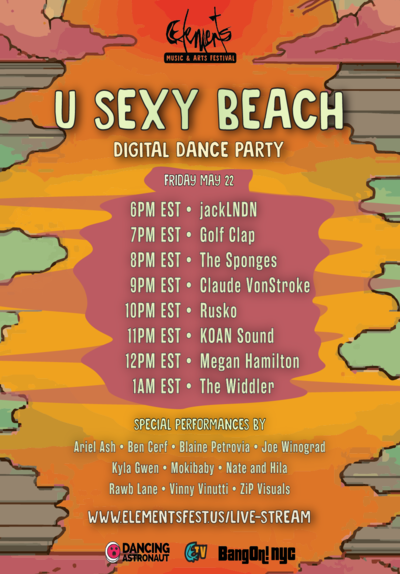 Saturday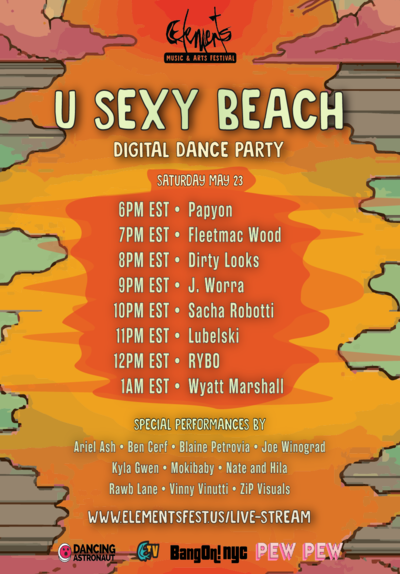 TUNE INTO THE BEACH PARTY HERE
Want the real deal connection? You can jump on the Zoom Portal to reconnect with your favorite festival friends. Stick around and see live performances happening in real time! You might just end up being highlighted on the big screen for the world to see!
Here's the theme thanks to @pewpewnyc, channel your tropical island alter-ego and prepare your beachy best!
"Pineapples, Pina Coladas and Purple Skies".
Don your best vacation shirt to celebrate sunsets and sippers. Party shirts, outrageous sunglasses and festival favorites rejoice. Beckon the whites and the brights. This is the time to let your tropical tendencies fly! Wanna really make us a smile? Share your looks with us @elementsfest_ and use the hashtag #elementsusb
Shakin' Your Tush For A Good Cause
This 100% FREE event is aimed at raising funds to help supply PPE in hard-hit hospitals on the northeast. This weekend we are matching your contributions with exclusive prizes.
100% of proceeds are donated to Paradocs a 501-(c)(3)
$5 – Suggested donation
$50 – Elements Custom Pin
$150 – 2 VIP tickets to any 1 night Halloween or NYE Event
$800 – Two VIP tickets to Elements + Standard pre-set tent
$1500 – 2 All-access backstage passes to Elements Festival
Last Thing.
The whole thing wouldn't be possible without all of our artists, DJ's, performers, technicians, and YOU! There's no place we would rather be but together and there isn't anything stopping us from having a good time until we see you at Elements Festival, September 25th.
::With a huge thanks to our contributing performers and visual artists::
Ariel Ash • Ben Cerf • Blaine Petrovia • Frick Frack Black Jack • Joe Winograd • Kyla Gwen • The Mission Cards • Mokibaby • The Mission Cards • Nate and Hila • Rawb Lane • Vinny Vinuti • ZiP Visuals
Who is Pew Pew? Pew Pew is a home for the creatively curious. They design imaginative experiences that wage war on banality. Follow them @pewpewnyc