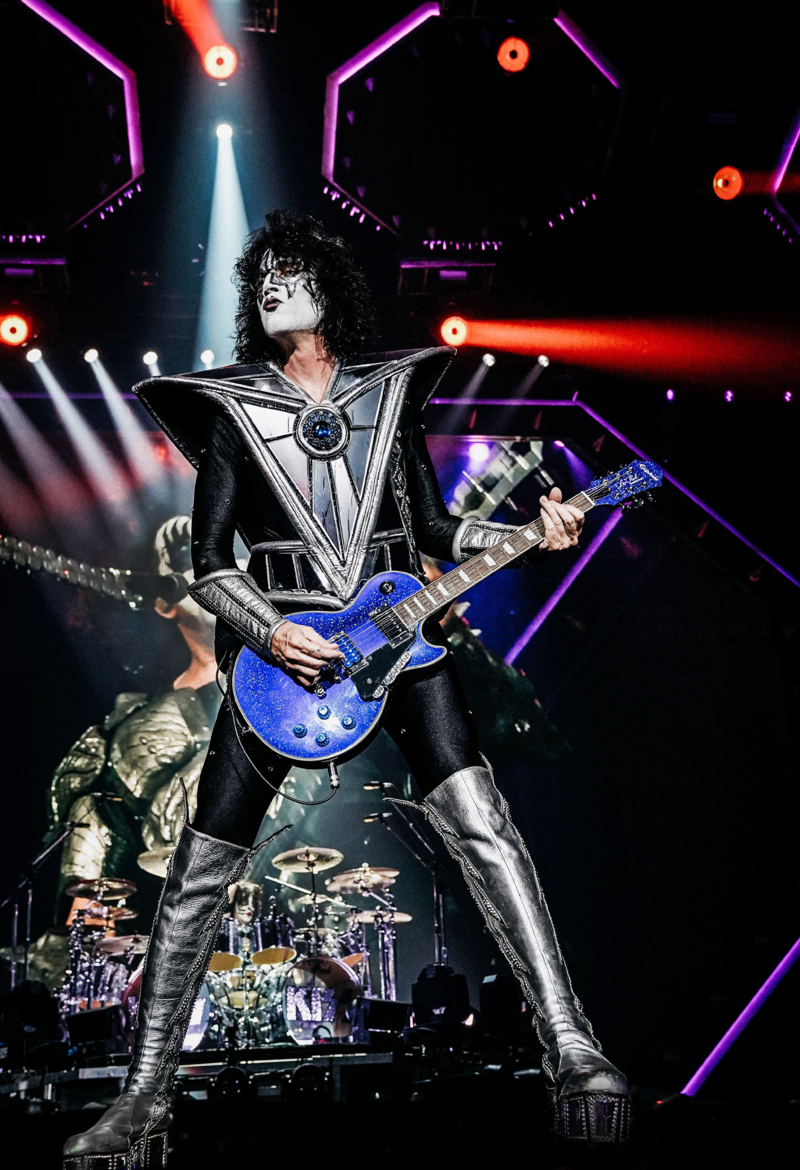 Epiphone Announces Worldwide Release Of "Tommy Thayer Electric Blue Les Paul Outfit"
MikesGig is supported by its audience. When you purchase through links on our site, we may earn an affiliate commission. Read the full disclosure HERE.
KISS Legend's New Limited-Edition Guitar Available Now At Authorized Epiphone Dealers.
Epiphone, the leader in affordable professional instruments presents the fourth Epiphone signature guitar from KISS legend, Tommy "Spaceman" Thayer. The new, limited-edition Tommy Thayer Electric Blue Les Paul Outfit features a unique Electric Blue finish with mirrored pickguard, Seymour Duncan™ JB Humbuckers, and Grover™ Rotomatic tuners. All previous guitar collaborations with Tommy and Epiphone have completely sold out. The Epiphone Tommy Thayer Electric Blue Les Paul Outfit includes a Blue hardshell case and a Certificate of Authenticity and is available now at Authorized Epiphone dealers worldwide.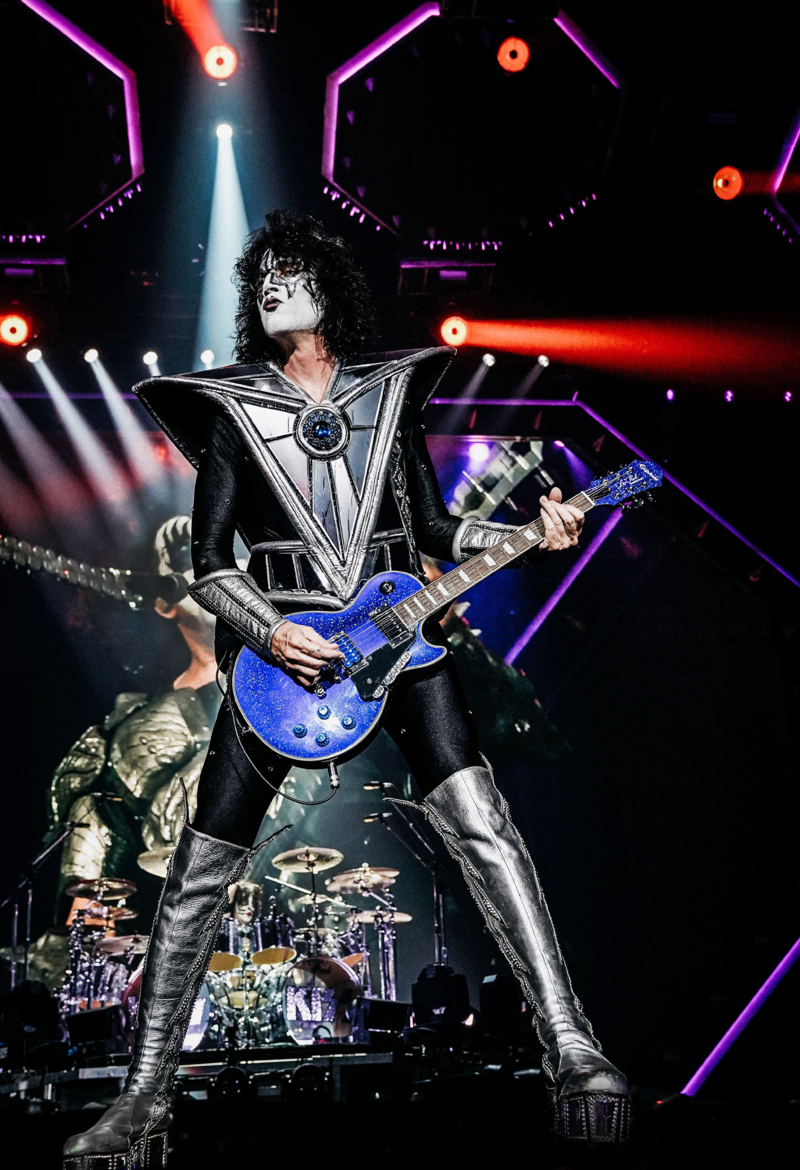 There has never been an American rock and roll band like KISS, recognized around the world for their hard-rockin' and spectacular stage show. Over the last decade, while many of their colleagues have struggled to maintain an audience, KISS has enjoyed a renaissance. "The band has never sounded better," Thayer told Epiphone. "And we plan to visit as many cities as we can over the next two years."
Much of KISS's staying power can be attributed to their lead guitarist from Beaverton, Oregon who hasbeen a part of the KISS family since 1985. First working as a songwriter, guitarist, and even a video producer, Thayer joined KISS full time in 2002 as the renowned "Spaceman" and gave the rock legends an explosive new sound and attitude. As the End of the Road Tour picks up steam, Epiphone caught up with Tommy Thayer at home in California to talk about the making of his new Electric Blue Les Paul and the future of KISS.
Tommy, thanks for speaking with us and congrats on your new Electric Blue Les Paul. 
It's a pleasure. At this moment we're taking a break and getting ready to continue on the End of the Road Tour through 2020 with the tour culminating July 17, 2021 in New York City. 

Has it hit you yet that this KISS tour will be the final big production tour?
I'm just taking it all in now. This tour is the biggest one that I've ever been on and certainly the numbers show that, with all the sell-outs and the response. It's really been an amazing experience so far. I think we've played 100 cities in 2019 and we're heading to Japan in December. We're planning on playing all the markets in 2020 that we didn't hit in 2019. It's really been a whirlwind tour. KISS is definitely at the height of our game right now in terms of how well we're playing and the show itself. And the massive production is as good as it's ever been. 

For a tour like this, did the band discuss going deeper into the classic catalog? 
Not really. Our goal was to cover as many different eras of KISS as we could when we were putting the set list together. But the set list speaks for itself in terms of the songs that people really want to hear. That's really what drives it. We want to get a great reaction when we're on stage, and by doing that, you play the songs that the masses want to hear. We're trying to stretch it out over all the different eras—1970s, 80s, 90s, and today, covering all the bases. It's really a celebration of all eras and the history of KISS. As far as deep cuts, we focus more on that when we do the KISS Kruise. We just did our ninth year and it's been a hugely successful franchise of its own. The cruise has 3,000 die-hard KISS fans onboard, it's really an experience to behold every year. The cruise brings together an international audience with people coming from over 30 countries, and it sells out pretty much immediately each year. So, we go deeper on the KISS Kruise because that's what those fans expect. And that's really what the cruise is about. 
Do you think the Kiss Kruise will continue after this major tour wraps up in 2021?
I think that's possible. Or maybe a residency in Las Vegas or something like that. But I'm not speaking for the band. I don't think any of us know where this is all gonna go after this tour is finished. I do know that KISS will always continue because KISS has a life of its own. The brand, the imagery, and the music. It's not going to go away. It has become an iconic phenomenon for over 45 years. I think everybody hopes that will continue as time goes on. 

What inspired the Electric Blue Les Paul? It's a stunning instrument.
Thank you. It's really phenomenal what we've done so far as a team—working with Epiphone. We've had three really successful signature models in the last six years. As you know, the limited edition runs on the first three instruments—the "Spaceman" Les Paul and the "White Lightning" Les Paul and Explorer, quickly sold out. So, I'm really happy with that. With the Electric Blue Les Paul, I wanted to stick to tradition with the design. I grew up with Gibsons—Les Pauls, Flying V's, Explorers. That's at the heart of what I really like. But also, I wanted to take those traditional guitars and make them my own. My goal is to always create something that looks and plays really well on the KISS stage. It's gotta have some bling and have a certain look and an aesthetic that really stands out. And that's certainly what we've achieved with this new Electric Blue Les Paul. 

I have to give (KISS drummer) Eric Singer credit again. Eric is a real guitar aficionado and he's always given me some good advice. Obviously, we've spent a lot of time on the road and we always talk about guitars. Eric's very forthright on his opinions on things (laughs) so he's always throwing guitar ideas at me. He's very direct about what he thinks I should be doing (laughs). 

It's good to have a friend like that.
It is! Eric came up with the "White Lightning" idea, which turned out to be a phenomenal look and a great guitar—both the Les Paul version and the Explorer. I told him I was thinking that I wanted to do a blue guitar and he helped me with ideas on what it should look like. He really pushed me to come up with a finish that is above and beyond. I went back and forth with Epiphone trying to come up with an electric blue sparkle finish that really stood out with an iridescent look to it. Eric suggested I get a hold of Johnny Douglas, an expert painter who's painted customized guitars and drum kits for Aerosmith, ZZ Top, Rush, and Van Halen. I explained to him that I wanted a blue finish that was deep but still popped on stage. I wanted an instrument with an iridescent quality so that when I moved, the stage lights would pick up unique reflections and give the audience different patterns and light reflections. After going back and forth two or three times, Johnny came up with a formula that really worked great and we passed that on to the folks at Epiphone. That's how we got the final finish. I asked for a blue open coil humbucker in the bridge position, which was the final touch to make it look complete. My friend Richard Akers at Epiphone sent me the prototype and I thought: Oh my God, this is great! I'll be officially presenting it at NAMM in January in Anaheim. I'm really excited. 

When you're not on stage, what have you been listening to? 
Being the traditionalist that I am, I've always liked the guys that play the style that I grew up with, that English hard rock blues style. It started with Eric Clapton and Jeff Beck and then in the 70s came Ronnie Montrose, Davey Johnstone, and Peter Frampton. I still really love that style. The guy that does it better than anybody to me is Joe Bonamassa. He combines the blues style with some faster runs. It's just so impressive—the articulation and the way he plays. He's a super guy and I love the way he plays guitar. I've also always been a big fan of Steve Lukather and Don Felder. Steve plays different styles—a rock & roll style with a kind of Larry Carlton-Steely Dan influence at different times. Don's parts always fit the song so well, the way he plays guitar is phenomenal. I've always been so impressed with guys like Steve and Don. 

Is there a solo guitar album in your future? You could come to Nashville and cut a record with Joe!
(Laughs) Yeah really! I just get a kick out of playing guitar in one of the biggest bands on the planet, so it's always interesting. Lenny Kravitz was at our concert in London recently. He's been a long-time KISS fan and I've always thought he's really cool. We did some photos together backstage before the show and he grabbed me and said: "Hey Tommy, I just want to let you know you're killing it on this tour.  I catch all the YouTube videos and always love your playing."  I'm thinking, are you kidding me? To hear Lenny Kravitz say that, those are the kinds of thrills that make the whole experience that much cooler.  

So I've been lucky. I've gotten to live the dream every kid dreamed growing up, playing lead guitar in KISS, walking onstage in the iconic makeup and outfits, playing to millions of fans around the globe on the biggest stages in the world. It doesn't get any better than that.
Tommy Thayer has been an Epiphone Signature Artist since 2014 and both his "White Lightning" Les Paul and Explorer were an instant success with fans and critics alike. The new Tommy Thayer Electric Blue Les Paul features a classic Les Paul profile made from Mahogany with a Maple cap and finished in Electric Blue–from custom paint designer John Douglas–with Les Paul Custom style white and black binding on the top. The Mahogany neck has a 60s SlimTaper™ profile with an Indian Laurel fingerboard and standard Les Paul trapezoid inlays. The neck has a 24.75" scale, a 12" radius, 22 medium frets, and a 1.69" Graph Tech™ nut. The truss rod cover has a metal "bell" shape engraved with Tommy's name and the back of the "dovewing" headstock features a "SpaceMan" logo and a reproduction of Tommy's signature in silver.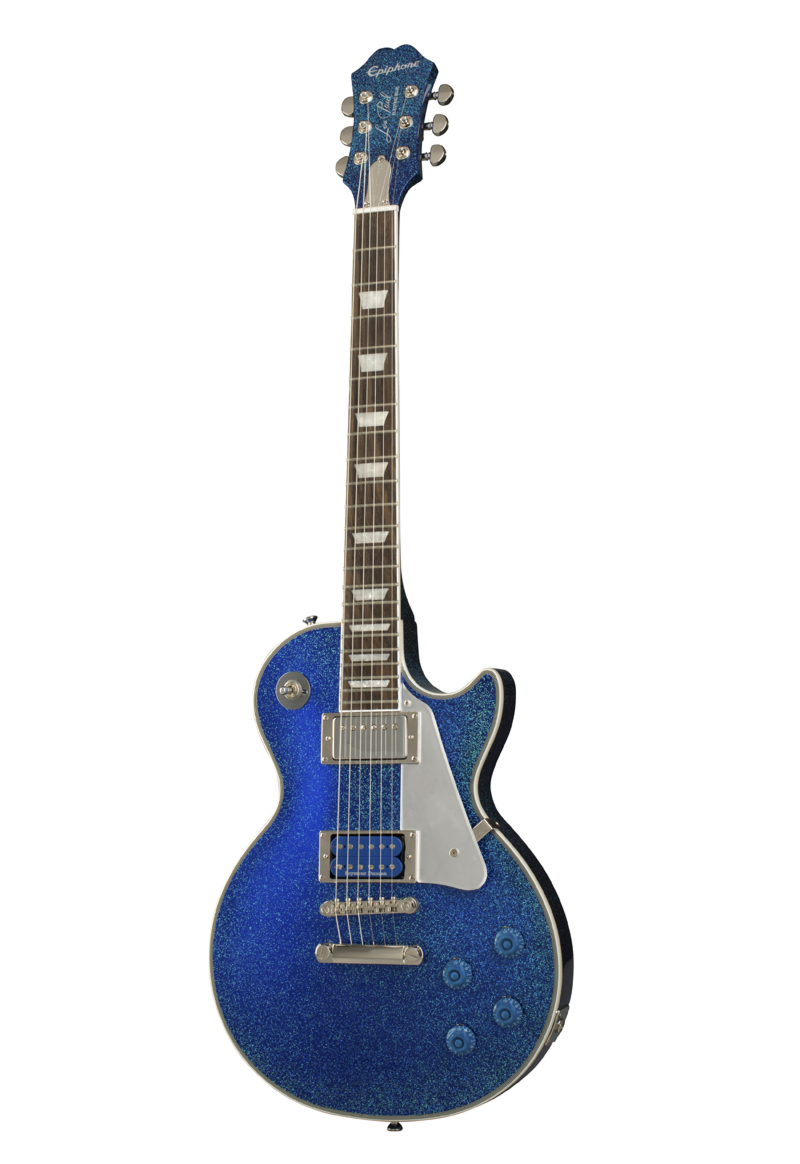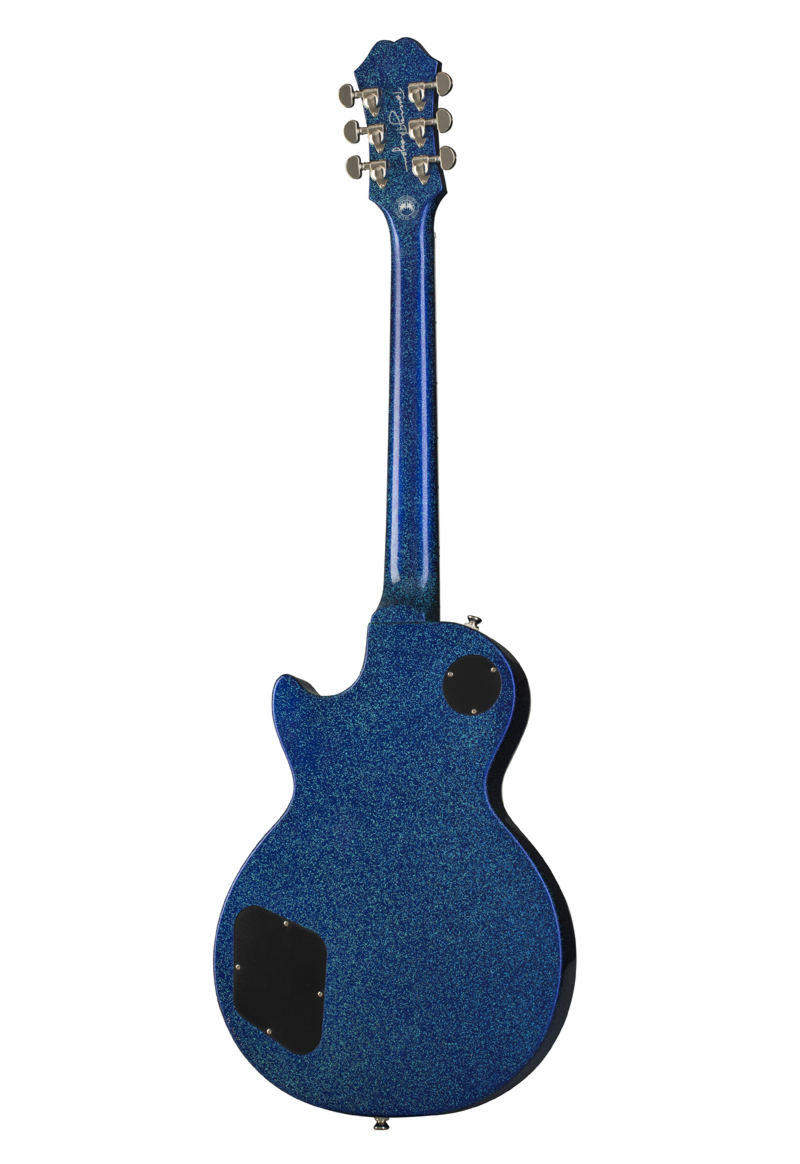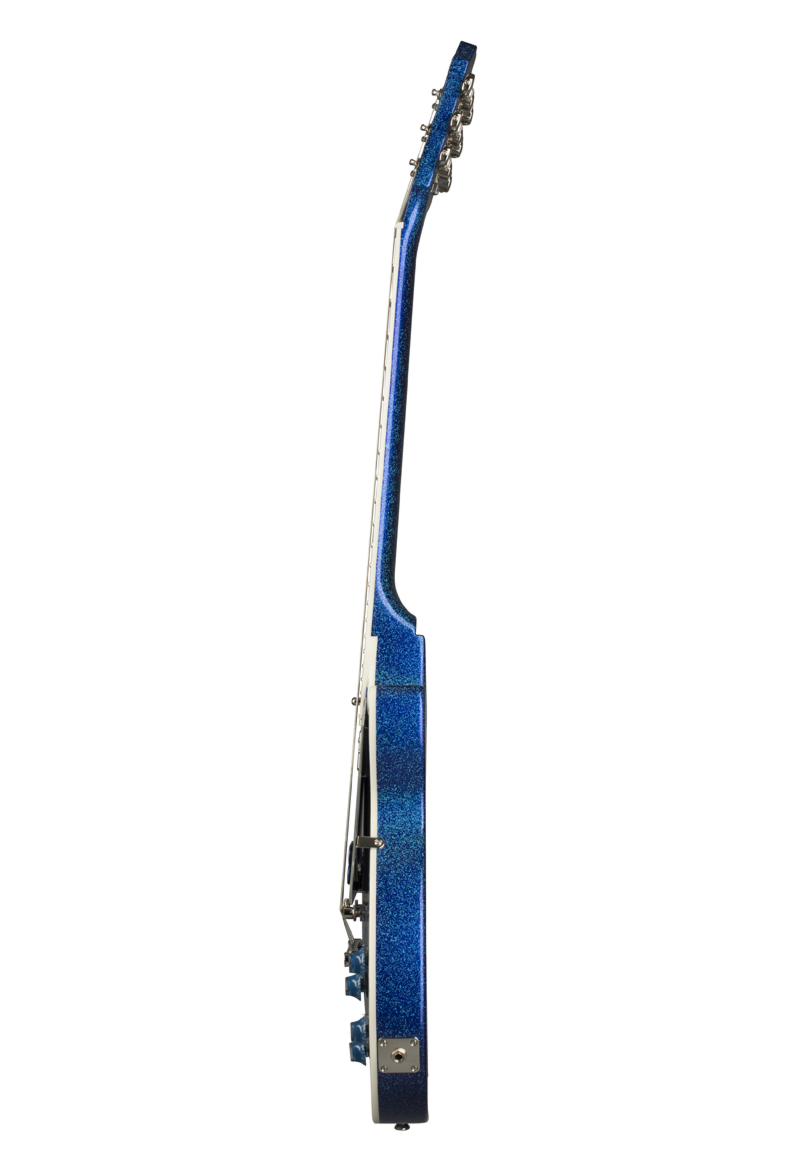 For his Electric Blue Les Paul, Tommy chose Seymour Duncan JB™ Humbuckers, the original archetype hot-rod humbucker and one of Duncan's earliest and most revered designs. The neck pickup features a covered JB™ Humbucker while the bridge pickup features an open-coil JB™ Humbucker with blue bobbins. Volume and Tone Controls come with custom Blue Top Hat knobs with metal pointers. Tommy selected the classic Lock Tone™ ABR bridge and Stop Bartail piece along with Grover™ Rotomatic tuners with an 18:1 tuning ratio for fast and reliable tuning and intonation. The Tommy Thayer Electric Blue Les Paul Outfit comes with a Limited Lifetime Guarantee and Gibson's world famous 365/24/7 Customer Service. See your Authorized Epiphone Dealer soon while supplies last.